Meet Your 2022 Talented Teachers
MEET YOUR TALENTED TEACHERS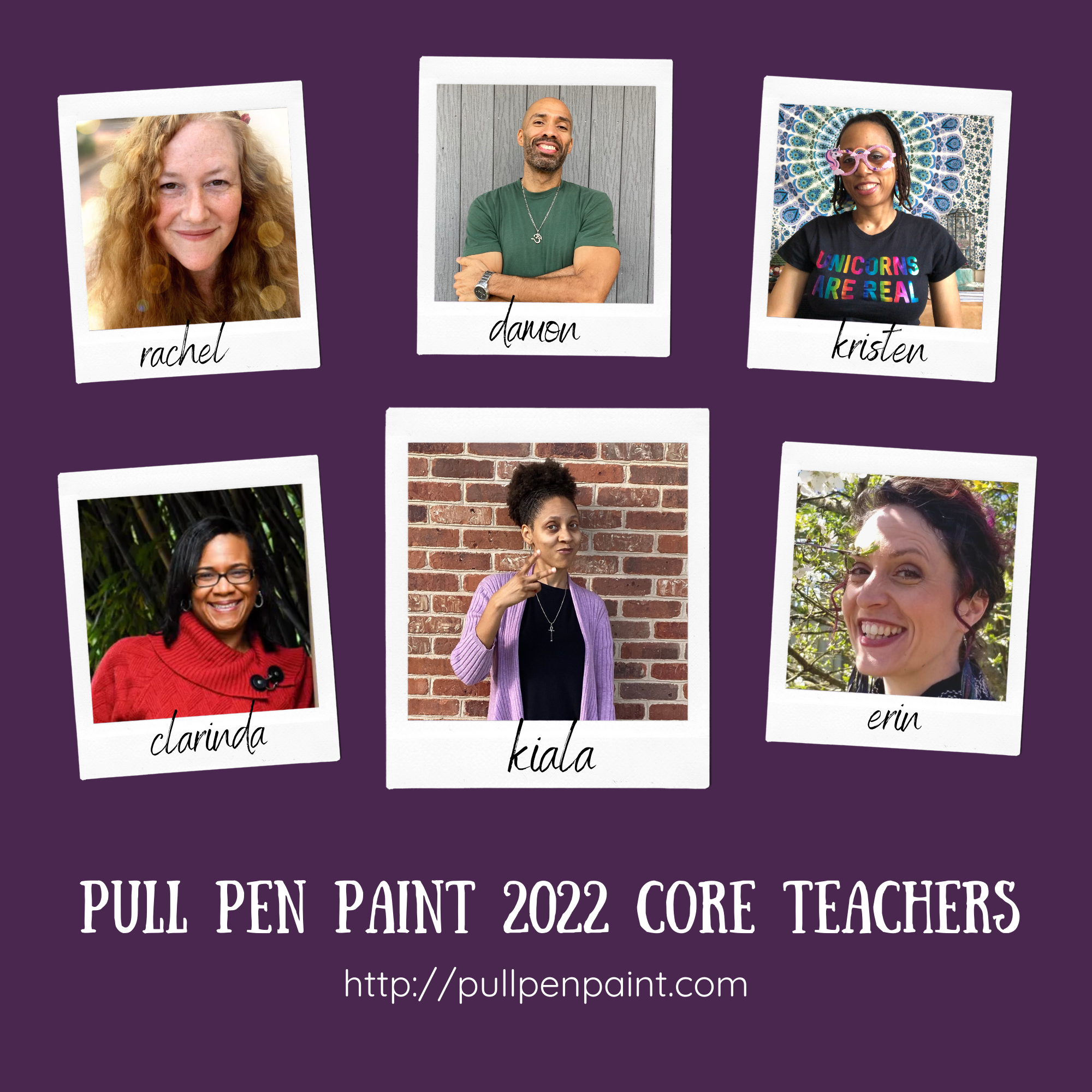 Core Teachers
KIALA GIVEHAND - Course Creator - Teaches Lots of Things (Poetry, Working with Archetypes, Creative Alchemy, Kitchen Witchery, and Mystical Bookbinding and more)
Kiala Givehand is a happiness catalyst & life alchemist for women. She's a published poet, bookbinder, and fountain pen collector. She surrounds herself with ordinary humans who live extraordinary lives, gathers with people who allow her to laugh and love uncontrollably, and lives a life intent on cultivating happiness through creative and spiritual empowerment. Kiala is a double Capricorn ambivert who grew up on the Gulf Coast of Florida where she learned to appreciate and respect hurricanes, humidity, and the transformational powers of the sun, the moon, and the ocean. She holds six academic degrees in various subjects from various universities, but the one she cherishes most is her Master of Fine Arts in Creative Writing and Poetry from Mills College where she fell in love with book art. Through online classes, one-on-one sessions, and in person retreats, Kiala guides women who want to liberate their creativity, explore deep inner work, experience radical transformation, and create a life filled with passion and purpose. She is the visionary behind Pull Pen Paint and welcomes you to this sacred space where we invite you to embrace all the parts of you, empower yourself through self-study, and emerge as your truest, most authentic, and highest self.
RACHEL TORDA -- Teaches Hildegard, Herbalism, Watercolors, and Creative Empowerment
Rachel Torda is an artist and writer, a graphic designer and editor. She is also a harpist, a gardener, a part-time medieval scholar and full-time mermaid in the mountains.
A big-picture seer, Rachel is the girl in the crow's nest, scanning the horizon for land. She is constantly seeking out the edges of creativity and where it connects people through art, music and sound. Now she is turning that vision to help others unlock their own intuition, and navigate to their own creative shoreline.
Rachel teaches about multi-sensory creativity, trusting your intuition, and about a medieval mystic, Hildegard of Bingen, who's messages of light and healing still resonate nearly 1,000 years later. This summer, Rachel will release her first deck, a meditative journey for seekers who are finding their way back to their own sacred center.
DAMON GIVEHAND -- Teaches Vedic Chanting, Flow Motion Meditation, and Yoga Sūtras of Patañjali
Damon is a yoga and health mindset coach who helps the ready, willing, and able person TRANSFORM into their healthiest self because he knows that the foundation of your BEST LIFE is your HEALTH, and he wants you to LIVE YOUR BEST LIFE. He is a published author, a chanting and meditation guide, and is working on his Yoga Therapist Certification. Damon is married to Kiala and together they host in person retreats and workshops for men, women, and couples who want to move from mediocrity to magnificence in all that they do. Damon has been a certified yoga instructor for 14 years, has a certification in Yoga Philosophy, and has academic degrees in Psychology and Mathematics, but considers himself a student of life above all else. For the first time in PPP history Damon will be working behind the scenes directly to help Kiala bring you the most magical experience possible. He will also be sharing his knowledge of meditation, yoga, and chanting with the Deep Dive Ladies. And if Kiala can manage it, she'll likely wrangle him into a Study Session to talk about the Divine Feminine and Sacred Masculine.
KRISTEN RADDEN -- Teaches Tarot, Creative Divination, and Mystical Crafts
Kristen is a tarot mentor, oracle deck creator, and divination instructor. She has studied a variety of divination systems including tarot, oracle cards, playing cards, charmcasting, dice divination and dowsing. She is also a Certified Handwriting Analyst, a Western Feng Shui practitioner, and she uses foot reading and face reading in her practice as a Reflexologist.
Her passion is helping people see the symbolic patterns in their lives and ways to use those symbols for problem solving and self discovery. Kristen specializes in making complex subjects accessible and fun to learn. She created Over the Moon Academy to teach art-meets-oracle classes, blending divination with her own unique brand of creativity. As an energy reflexology practitioner, she provides remote reflexology services to heal mind, body, and spirit.
CLARINDA MANN -- Teaches Astrology and Human Design
Clarinda Mann went through a major awakening experience in 2011 that energetically pushed her life into a completely new direction. She became fascinated with esoteric knowledge, energy work, and astrology and knew that one day she would utilize her talents to help bring transformation to others.
She is committed to helping you learn more about your unique identity to bring healing to areas of your life that require attention by showing you how Human Design and Astrology can transform your perspective.
Clarinda knows that we all have a unique purpose and she strives to assist others to help them go through their personal transformation in a safe and healthy way.
She says... "My goal as your practitioner is to facilitate transformation in your life by helping you get to the root of who you are and learn to live your Design fearlessly!
ERIN ORION ABBOTT-HAINES -- Teaches Energetic Hygiene, Healing Arts, and Fiber Crafts
Erin Orion is a Soul Doula: a priestess, an energy healer, a channel, a psychic and a counsellor. She is a writer, weaving and spinning new realities with words. She is also an artist: Erin is a practitioner of, and a healer with, fibre arts; she spins, weaves, felts, knits, crochets, and dyes fibre. She is the proud mother of two young starseed, neurodiverse and genderqueer children and caregiver of multiple fur-babies. She is passionate about supporting parents of neurodiverse children and families with complex medical needs. Erin is called to advocacy and activism, having incarnated to be a part of the global transformation into a world based in equity, sustainability and peace.
---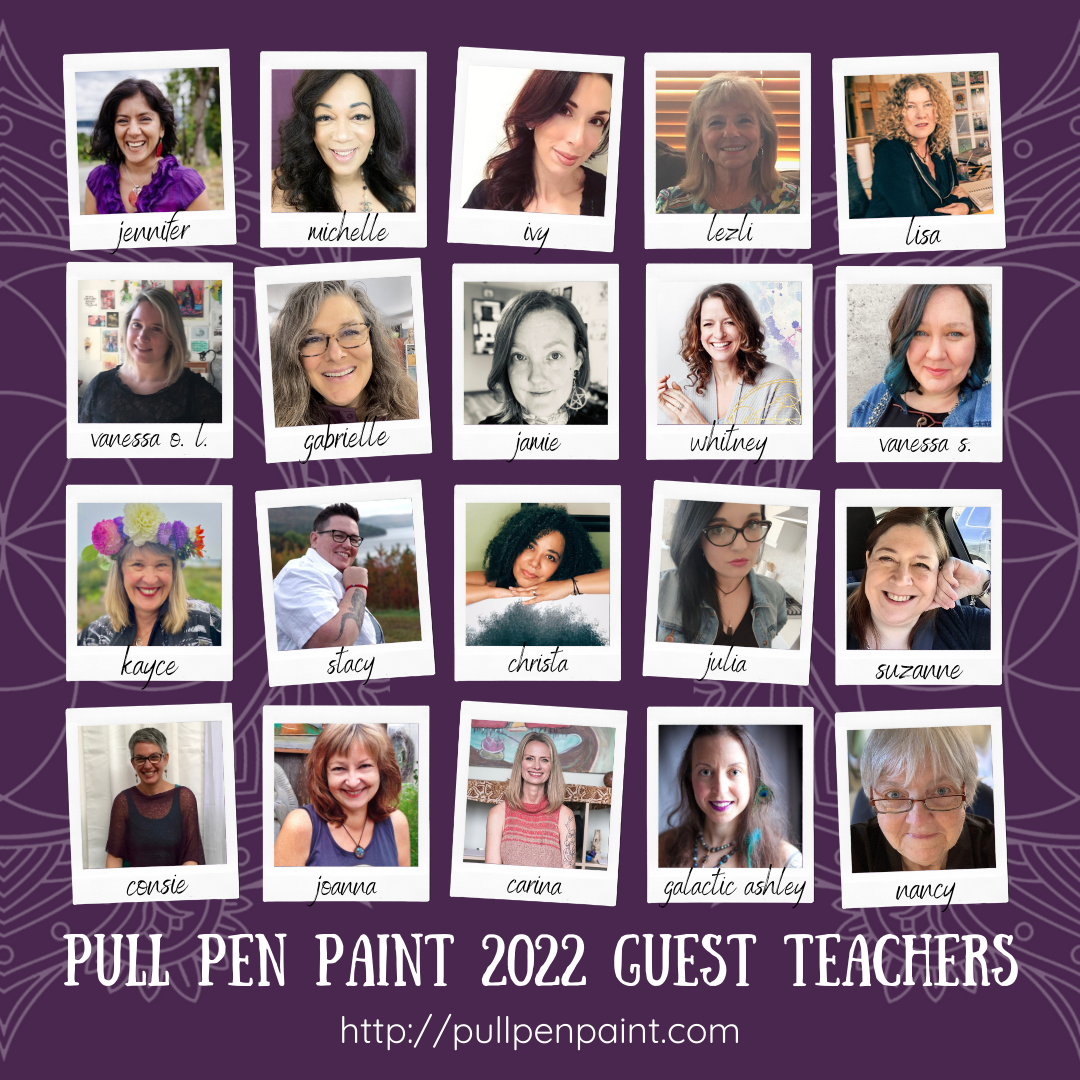 Guest Teachers
JENNIFER LUCERO-EARLE -- Teaches Somatic Movement, Embodiment, and ArcanaDance™
Jennifer is a somatic alchemist. Whether through tarot or on the dance floor of life, her purpose is to hold the space for you to move, heal, grow and become who you've always wanted to be. She weaves her training, education and life experience in somatic movement and experiential healing to create transformative experiences that illuminate and provide pathways to understand and expand, via the language of the body, personal and universal consciousness. She is a tarot reader, guide and teacher. She helps you have deeper access to your archetypal story so that you can draw wisdom from your past experiences, access the opportunities available to you in the present, and create beautiful paths of possibility and potentiality for your future. Her aim as your tarot guide is to help you honor your self-knowing and to champion your self-determination to create the life that you most desire. She is a movement facilitator. She creates and facilitates movement experiences that support you in having a more loving, kind, pleasurable, respectful and empowered relationship with your body. She wants you to feel vital, whole, strong, flexible, mobile, stable and in harmony with your unique body. Whether it's through Somos Luceros, ArcanaDance™, or Somatic Dance-Yoga, she is a masterful somatic facilitator, bringing compassion, playfulness and joy to any experience. Her guidance is simple, clear and will allow you to move your body in ways that honor and align with your mental, emotional, physical and spiritual capabilities and values.
MICHELLE RENÉ ROBINSON -- Teaches Tarot, Human Design, and Female Empowerment
Michelle has fulfilled many roles in her lifetime, personally and professionally. And yet the 'work' that has always journeyed with her is that of the divine; of bridging the gaps between self-awareness and the profound connection we each can have with our soul and purpose in the world.
It's for this reason that her work is built upon a foundation of spiritual and metaphysical tools. These are what she calls the 'Jewels in her Jewel Box', and are what helps her navigate the Soul Journey she is here on Earth to facilitate.
IVY NEWPORT -- Teaches Creativity, Mixed Media Art, and Spiritual Connection Through Art Making
Ivy is a published artist, art instructor and creative guide. Her online collection of artistic workshops have served thousands of students internationally and she prides herself on giving devoted care and support to her student body. She spent most of her childhood growing up in Sydney, Australia and received private art education from a well known Australian artist as a young girl of 8 until her family was relocated to America when she was 16. She went on to finish high school in Connecticut and attended the Ringling College of Art and Design in Sarasota, Florida, receiving her BFA in Illustration.
Ivy's artistic message is to guide others to their creativity and nurture those special gifts in each of us. She strongly believes that every soul is creative and finding ways to express that creativity is paramount to joy and healing.
LEZLI CENSULLO -- Teaches Tarot and Astrology
Lezli is a lover of tarot, astrology, and other esoteric tools. She teaches tarot in an interactive, fun, light, and deeply connected way. After spending more than 20 years in the "Death" industry, Lezli brings an joyful approach to life and hopes her students find that same joy in learning who they are through the study of tarot.
LISA de ST. CROIX -- Teaches Tarot, Visionary Art, and Creative Empowerment
Lisa de St. Croix was born in Johannesburg, South Africa. She received her Bachelor of Fine Arts from the School of Visual Arts in New York. Lisa has exhibited her paintings internationally and is in many private and public collections. Lisa is world known for her tarot and oracle decks. Tarot de St. Croix, an award winning tarot deck of 78 mystical paintings was published in 2014, and the borderless edition in 2020, de St. Croix Lenormand Oracle in 2017 and Invoking the Goddess – Oracle and Action in 2019. Sacred Union Oracle will be published in 2022. Lisa's paintings and oracle decks are inspired by her visions, experiences and metaphysical knowledge. Lisa teaches workshops around the world as well as in her Santa Fe, New Mexico studio.
VANESSA OLIVER-LLOYD -- Teaches Art Witchery, Mixed Media, and Tarot
Vanessa is an art witch, an archaeologist and a mother who is just embracing her Sorceress phase. She is a big believer in the healing properties of art and works on inspiring others to banish shame and self-criticism through her art and classes. Vanessa has embraced the rituals inherent in art making, loves tarot and archetypes. She is part of the triad that runs Art Witch Academy.
GABRIELLE CORMIER -- Teaches Creativity and Mixed Media Art
Gabrielle is a mixed media artist as well as a trained and certified counseling therapist, living in Vermont, in the United States. At the beginning of 2021, she took a leap and also became a content creator and teacher on YouTube. It must be said that Gabrielle is not a stranger to taking leaps of fate. In 2015, she made a month long solo trip to New Zealand, she met the love of her life and 6 months later, they were (and still are) happily married.
Her passion and purpose in life are not only to be creative, but also to help people live their best life. With this vision in mind, she takes a mindful, intuitive and compassionate approach to creativity, teaching and connecting with others. She describes herself as having a curious mind, an insatiable desire to learn and an open heart willing to consider all that is plausible, possible and then some. Originally from New Brunswick, Canada, she holds close to her coastal roots and she feels a strong connection to water and nature as a whole. She finds much joy in exploring the world and expanding what it means to be an artist.
JAMIE SAWYER -- Teaches Creative Divination and Tarot
Jamie Sawyer is a professional artist with a flair for the esoteric. She is a deck and divination tool creator. Jamie is both teacher and student when it comes to this journey of life, truly believing we all can be conduits for creativity. She loves to help empower others to find their creative voice and break through any self-imposed boxes.
WHITNEY FREYA -- Teaches Art, Creative Empowerment, and Divine Feminine Power
Whitney Freya is a published author, artist, entrepreneur & creative muse. Her latest book is just out! Rise Above, Free Your Mind One Brush Stroke at a Time is an explosion of color, painting prompts and inspirational teaching for Life Artists! Her unique approach to personal creativity has garnered her international media attention, including CBS news & appearances alongside Dr. Wayne Dyer, Donna Eden & more. She leads her international team of Creatively Fit Coaches who share her passion for living life as art. Whitney Freya has taught at The Esalen Institute, around the world at creativity conferences, Burning Man, Awesomeness Fest, and at Agape Spiritual Center. Whitney Freya is the creatress behind all the programs here on Teachable. She is supported in Vision Quest + Super Soul Flow by CCFC Master Coach Angela Murray. She devotes her 1-on-1 and personal attention to her Creatively Fit Coaches (in training) and her 1-on-1 clients. Be sure to check out her YouTube channel as well.
VANESSA SAGE -- Teaches Tarot, Priestessing, and Spirituality
Vanessa Sage's work focuses on self-compassion, inner-bravery, and discovering the mystery in our everyday lives. She offers spiritual and business mentorship, Priestess training, and tarot readings to help you enchant your everyday, bring your imagination to life, and listen to your wild soul's calling! She has a PhD in cultural anthropology, and spent many years studying Buddhism, pilgrimage, and alternative spirituality as an anthropologist of religion.
KAYCE HUGHLETT -- Teaches Authentic Living, Creative Awakening, and The Power of Devotion
Kayce is a woman, a mother, a wife, a sister, an orphan, a friend, a spiritual seeker, a lover of nature, a fan of cozy beds and warm fires. She is a grown person with the heart of a child. She's a romantic and has a practical side. She experiences God outside the box and loves old traditions. Kayce grew up in the Bible Belt (Oklahoma) and relocated more than 20 years ago to the "most un-churched city in the country" (Seattle). Her first career was as a posh accountant in a downtown highrise, now she's an author and speaker who practices creative life coaching around the world.
Kayce abhors that the world is filled with suffering, and she knows affliction has helped create the individual she is today. She loves music of all kinds, rhythm and movement. She thrives on new experiences, adores reading, blogging and movies ranging from the romantic to the contemplative. One of her favorite authors, Anne Lamott, calls laughter "carbonated holiness" and Kayce couldn't agree more heartily. Belly laughs are manna from heaven and there is also nothing better than a well-timed temper tantrum. Play time with friends and family is sacred as is quiet space and solitude.
She believes life is a journey toward authentic living and discovery of the truth within.
STACY ANN MASKELL -- Teaches Compassion & Kindness, Transformation, and Intentional Living
Stacy is an artist who is passionate about thriving and living a conscious life full of joy, love, and peace after addiction. She creates positive change in the world through bravely sharing her journey of recovery, being queer and experiencing mental health challenges. When Stacy is not working with her partner, Vanessa, you can find her playing with clay, seeing what she can create.
CHRISTA FORREST -- Teaches Creative Empowerment, Mixed Media Art, and Moving Past Fear
A California artist specializing in pastel, oil, acrylic, and mixed media art, Christa spent 20 years in a finance career, until one day she decided to follow her true passion and become a full-time artist. She now spends her time sharing her passion with others, teaching others to be creative, and exploring the world's landscape, recreating it onto canvas. Her work is a mixture of realism, exploration, experimentation, and pure fun. Christa recently began creating a detailed and expressive Goddess series where she incorporates the divine feminine and illustrates the strength many women struggle to connect with in their daily lives. "We remember to nourish our bodies with food and water but seem to forget to remember to nourish our souls." Why do we find our inner selves starving and yearning for something more? Christa hopes to encourage you to unleash your inner story through the artwork. During your time with Christa, your creative soul will explore creating from within and intuitively without the pressure of perfection and judgment.
JULIA EVE -- Teaches Tarot, Divination, and Consciousness Development
Julia is an intuitive, seeker and facilitator who, combining both insight and logic, uses tarot as a primary tool for consultation. She has been a life-long explorer of the occult and divinatory arts, helping to empower others to tap into their inherent magick, connect with the divine and improve their lives.
SUZANNE M. TALLEUR -- Teaches Enneagram
Suzanne is a life-long learner, seeker, reader, fellow fountain pen enthusiast, journaler, poet, art journaler, and mixed media artist. A certified coach and Enneagram facilitator, she uses her intuition and innate optimism to guide and coach students to a deeper understanding of both their own personality style and the styles of those around them. A foundation of her work is helping students use self-understanding to amplify strengths and increase their ability to accept and understand the differences among us.
CONSIE SINDET -- Teaches Art Journaling, Mixed Media Art, and Creative Empowerment
Consie is a creative on a journey. She believes that we should always be learning, growing, trying, failing and embracing the process through it all. While she continues on my journey to try it all, she invites others to come along for the ride. Over her 13+ years of teaching creativity in many forms, she has been part teacher, guide and coach to her students. Before online classes were even a thing, Consie taught in-person art classes to hundreds of women. Together they played, laughed, bitched and commiserated. They pushed her to continually learn and she encouraged them to continually try.
In 2014, Consie discovered art journaling and online classes, and a new world opened. She has found art journaling to be the most freeing way to express herself. After all, it's really mostly paint, paper and glue. Nothing precious. Anything goes. Hate it? Turn the page.
Now, she shows others by example through her online classes (and the occasional in-person class!) that we are creative. That we can find freedom, playfulness and joy by slapping down some paint, gluing magazine pages all over a piece of paper, adding some doodling and marks, finding a quote that screams…This is how I feel today!…and calling it good enough.
Consie lives in SC with her husband, Lee and their 2 dogs. She was born in Barbados but has lived in the US since she was 10. She cannot live without reading or yoga.
JOANNA POWELL COLBERT -- Teaches Mixed Media Art, Myth, Folklore, and Cycles
Joanna Powell Colbert is a sacred artist, soul guide, earth mystic, moon lover, and caller of circles. She is the creator of the Gaian Tarot and the Pentimento Tarot, and co-creator of the Herbcrafter's Tarot. Her work as teacher and guide is centered in sacred art, earth-centered spirituality, and tarot.
CARINA NICKERSON -- Teaches Embodied Mindfulness and Yoga
Carina Nickerson, founder and creator of the Embodied Mindfulness School, Senior Embodied Mindfulness Coach and yoga teacher at Yogalution Movement, is dedicated to teaching people to decode their inner guidance and unlock their peace, passion, and purpose. She works with aspiring and current healers to help them grow the calling in their heart and natural gifts into a prosperous life they love through The Embodied Mindfulness School's™ Apprentice Program where students become Certified Embodied Mindfulness Coaches.
She struggled with anxiety and depression for years before panic attacks drove her to healing through body-centered meditation, insight yoga, and depth psychological work with the guidance of teachers she continues to work with today. She has been married to wonderful man for the last 15 years with two beautiful kids and enjoys a peace, passion, and purpose she never thought possible. When she isn't busy with her family she is working with her students and clients to help them clear their obstacles to the deep peace they long for. She's been known to paint a picture or two and writes every single day.
ASHLEY RAASCH (AKA GALACTIC ASHLEY) -- Teaches High Frequency Healing, Transmutation, Divine Sovereignty, and The Art of Channeling
Galactic Ashley channels Divine Guidance for Starseeds connecting them to their Star Families and Galactic Lineages. Since completing the Master's of Fine Art in Photography program at the University of Arizona in Tucson, she loves empowering other artists and guiding them to consciously work with their natural channeling ability.
NANCY HENDRICKSON -- Teaches Ancestral Healing Using Tarot
Nancy is the author of Ancestral Tarot. She lives in San Diego, in one of the city's older neighborhoods. She walks the 'hood almost daily, but when she gets tired of her same old route she goes to Balboa Park and wanders down the Prado, sometimes stopping in at one of the museums. She Ioves to walk in her neighborhood, as it is filled with signs and omens. Plus, great coffee at Mystic Mocha.
She is a cat-lover from way back, although one isn't currently living with her. When she lost my sweet Josie to heart failure, she wasn't sure if she could stand being broken-hearted again. So, for now, she is cat-less, but probably not forever.
Nancy is an avid iphonographer, shooting everything from neighborhood gargoyles to hibiscus and blue doors. Photography slows her down – a good thing since she rarely stops. She uses Tarot every day of her life. She reads for herself, creates spreads for herself (and others), and she journals about Tarot. She's not that much of a predictive reader as she knows that one small change in behavior will impact a likely outcome. We humans can change so quickly, predicting the future can be a chance-y affair.
She spends most of her off-time exploring the Anasazi (Ancestral Puebloan) ruins scattered across the Southwest. Or, to be honest, just about any ruins she can find. She has a passion for petroglyphs and walking in the footsteps of history. Nancy says..."I may not read cards while scrambling through the ruins but I do listen to the Spirits and honor their homes."
---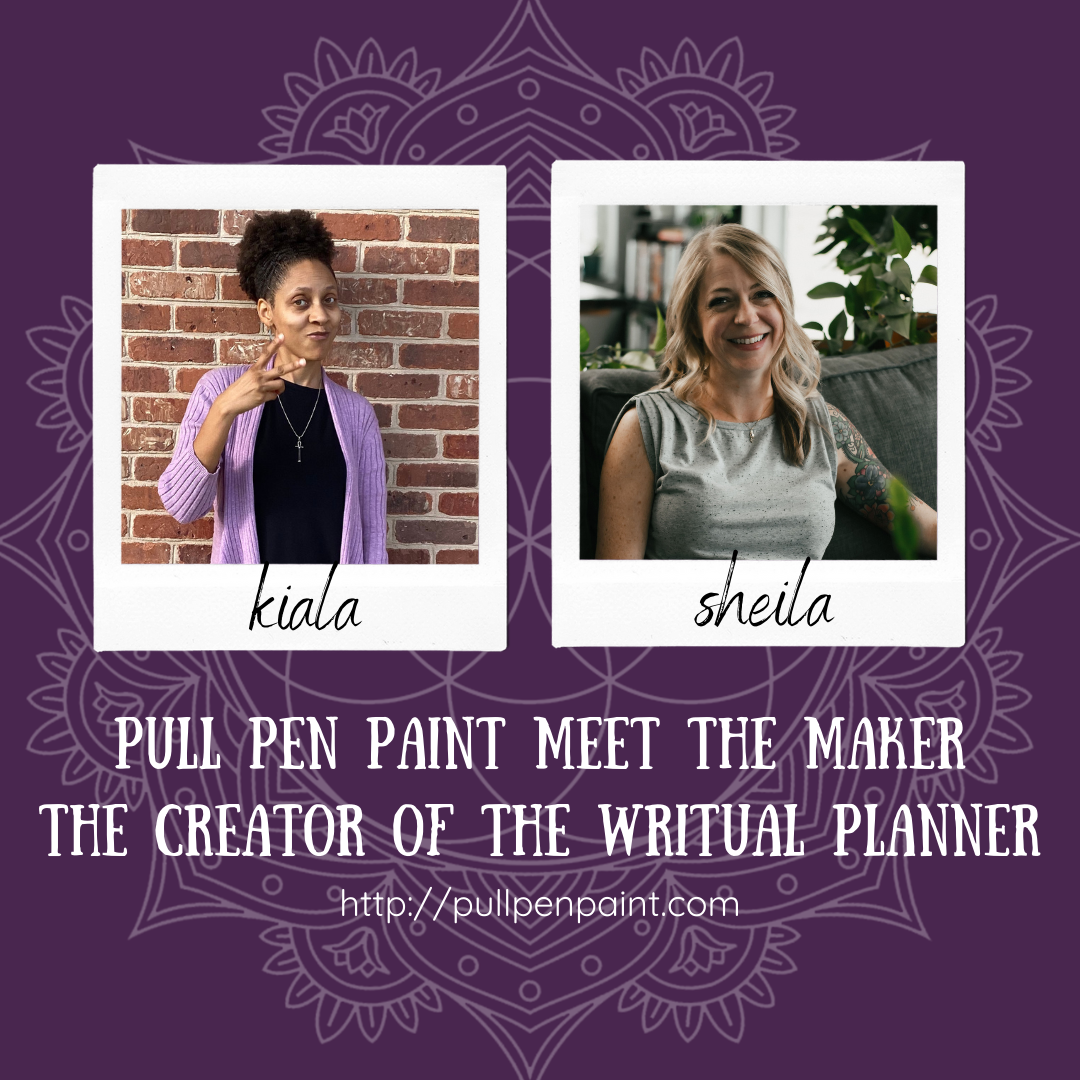 This year we have a series of conversations with some of the makers we love. We are excited to have Sheila Ellis, the creator of The Writual Planner as our first maker-in-residence of sorts.
Sheila believes in making the spiritual accessible - everyday, to everyone. She and her team are committed to creating simple but powerful tools to merge the mystical with the mundane so that we all can carve out a little space each day to connect and explore.
Sheila was fueled by the need to find easy, attainable ways to call in a daily reflective practice. That is what led her to birth Writual Planner.
Writual Planner was born when she just couldn't find a planner out there that fit her tarot journaling needs. She yearned for a daily practice, but never seemed to stick to daily writing in a notebook and the tarot planners she could find on the market. They seemed either lack-luster or way too complicated to manage in the few short minutes she had available each morning. After endless searching she decided that she would make her own, to include everything she wanted for a simple, maintainable daily practice.
This is how the Writual Planner came to be and in 2021 evolved to include the Writual Society. The incredible response they received to their 2021 Tarot Planner was their nudge to create an ever-evolving space for the Writual Planner community to share ideas and experiences, to pool combined knowledge and expand through reflection and interaction. It is a group for those of us who need inspiration for a real-world spiritual practice - that can fit into the one or three or five minutes each day we actually have - with people who share our challenges.
The Writual Society is a community of people who understand one another and can help each other to expand practices no matter where we are in our growth.
FROM KIALA
This year, we welcome Sheila and the Writual Society to be in conversation with Pull Pen Paint. Let's all make the mundane magical. I've been using the digital version of the planner and LOVE LOVE LOVE it. It's so easy and it goes with me everywhere (phone, ipad, computer). I love that I can take pictures of my cards and bring them into my notetaking app where the digital version of the planner lives. I am finding it refreshing to have it all in one place. I can't wait to share space with Sheila and learn from her as the year moves forward. She will be joining us
Complete and Continue