YOUR INSTRUCTORS: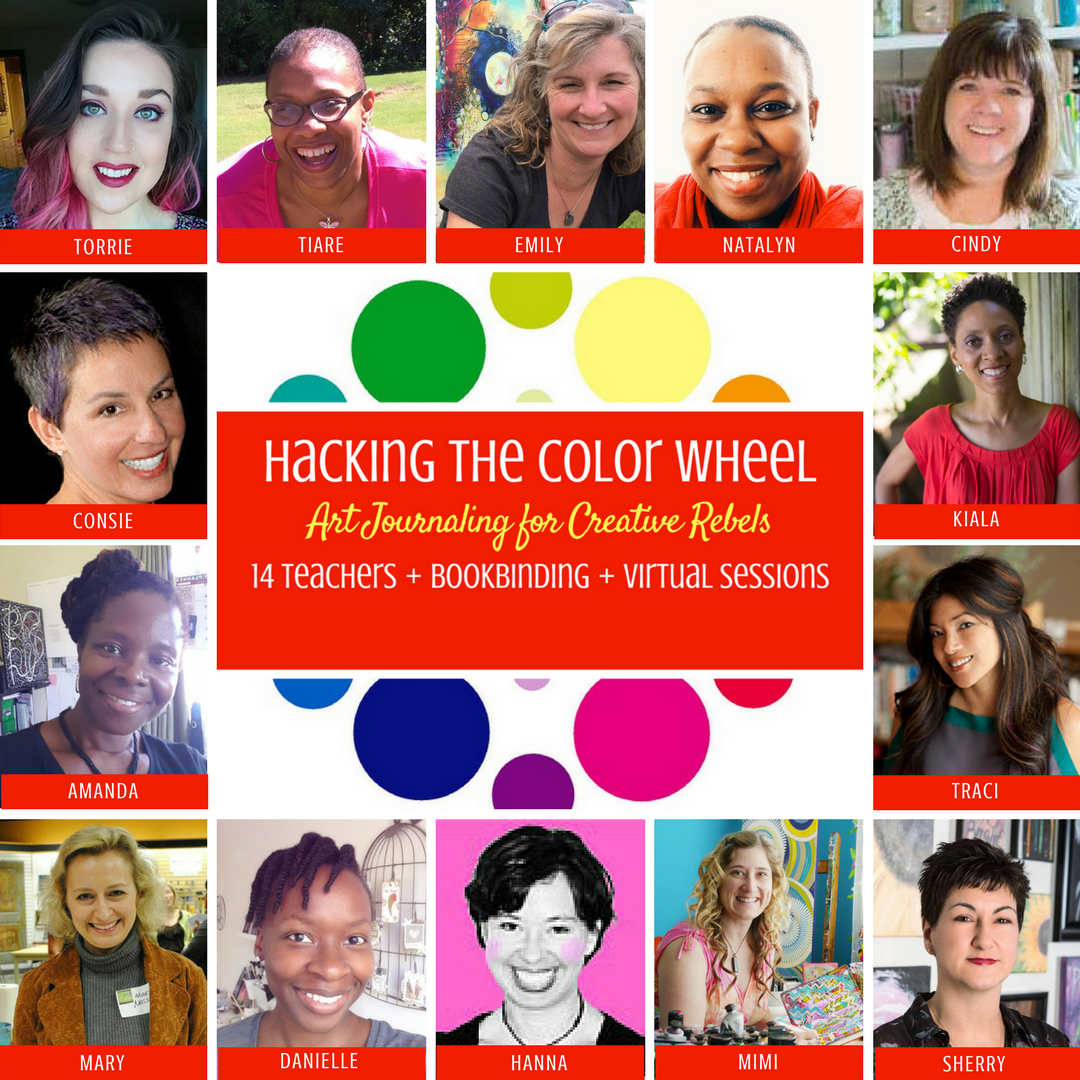 LEFT TO RIGHT FROM THE TOP ROW:
TORRIE aka Fox & Hazel: Torrie is a mixed media artist, art journaling fanatic and designer. She has been creative from a young age, which helped her survive freezing Canadian winters by drawing, painting and refusing to go outside. She is passionate about helping others find their creative voice, and chronicles her own art journaling adventures on her blog. Through tutorials, process videos and Instagram challenges, Torrie is keen to share her passion for sparking creativity in others. She's the one woman show behind Fox + Hazel, has a husband who puts up with her creative messes, and three small children who she can't believe are actually hers. Torrie loves making arty messes, The Walking Dead, punk music and would have a coffee IV if they existed. **Teaching in both sessions.
---
TIARE: Tiare Smith is a self-taught mixed media artist and instructor. Born with art in her heart she lost her way from her art for 18 years. It came back to her life in a burst of emotion and anxiety. By practicing techniques of love, positive self talk, and action which have helped her to overcome other areas of struggle, she now enjoys her art in a free and inspiring way. She inspires creatives to embrace their inner artist while also nurturing their hearts and memories. She has not only been featured on HGTV but has had numerous works published in a variety of crafting magazines and blogs. She aims to help women embrace the artist within through lessons infused with love, happiness, confidence and creativity, empowering them to experience and express their art more freely. You can view her art and learn more about her at www.tiaresmith.com **Teaching in both sessions.
---
EMILY: Emily Mitchell loved art as a child. As a young girl she took art classes wherever she could - local recreation departments, summer camps, and RISD. Emily was an art major at Wheaton College in Norton, MA, and began her art education career in the early 90's by being the Arts and Crafts Director at her summer camp in Ivoryton, Connecticut. There, Emily found her calling-connecting through art.
Her work begins with playful applications of leftover paint on spare canvasses, and slowly evolves from loose, colorful marks into vibrant and complex "landscapes". Her narrative imagery, which is rooted in her strong connection to nature, evolves over time and is a response to the canvas in front of her, rather than a specific plan. She focuses on process as an essential component of developing work that feels authentic and personal.
Making art, for Emily, is a back-and-forth play between spontaneous, intuitive mark-making, and careful deliberation and intention: a blend of letting things happen, and making things happen. She looks to the canvas itself to guide her, working with "what's working" to move forward. This is practice takes patience - there is no quick solution to any problem. However, this process does allow unexpected colors, imagery, and ideas to become part of her art. Each day, each painting, each moment is new and she is always learning.
Emily is an artist, wife, mother, art teacher and swimmer, living and creating art in scenic Richmond, Vermont. Visit her website and connect with her on Instagram. **Teaching in Session 2.
---
NATALYN: Natalyn is an artist, a creativity facilitator, an opera singer and a voice teacher. She helps women step fully into the power of their creativity, facilitating their growth in their own creative practices and cheerleading them all along the way. She has been a private voice teacher for 22 years, worked for ten years as a music teacher and choral director at a private arts academy for homeschoolers, and has been a working artist her entire adult life, in the form of an opera singer, jazz singer, worship leader, photographer and visual artist. She has written her first book to be published this year. An Atlanta native, Natalyn currently lives in Southwest Virginia with her husband and four children. Connect with Natalyn on Facebook and Instagram. **Teaching in both sessions.
---
CINDY: Cindy is a self taught mixed media artist from Texas. She has a love for art journaling, messy paint palettes, vintage paper, vintage fabric, and new art supplies. It's not unusual for her to run errands with paint on her clothes. She loves combining old and new, creating quirky art, and inspiring others. She believes creative play is so important and tries to make it a daily habit. She is a Creative Team Member of StencilGirl and teaches creative classes online and in person. Cindy can be found online at www.JunqueArt.com. **Teaching in session 2.
---
CONSIE: Consie is a mixed media artist whose work often includes some form of doodling. She has been an artist for as long as she can remember and has done everything from teaching decorative painting, selling at craft shows, painting murals, to face and body painting, and henna art. She discovered the world of art journaling in 2014 and jumped right in! Consie currently has online classes available at Skillshare and writes a creative blog, Atop Serenity Hill. She has also been a member of the design team for The Crafter's Workshop line of stencils for the past two years. She believes that we should never stop learning and tries to be creative on a daily basis to support that belief. Connect with Consie on Instagram. **Teaching in both sessions.
---
KIALA: Kiala Givehand is a mixed media book artist, creative business strategist, and avid journal keeper. She collects fountain pens & ink, blank journals, tarot & oracle cards, stencils, and watercolor sets. Her most recent interests have taken her into the realms of Astrology, Numerology, and the beauty and power of sacred symbols (especially mandalas). She is intrigued by the way color can impact our mood, our energy, our memories, and the way we navigate the world. Mostly, Kiala wants to hack the color wheel as an act of freeing herself from the traditional ways of thinking about color and how we use color in our art. Kiala is the curator of this course and feels tremendously honored to share space with these amazing women. Connect with her on Instagram and on her blog. **Teaching in both sessions.
---
AMANDA: Amanda Trought is a mixed media artist, and online art teacher interested in using materials such as collage, clay, recycled materials and fabric to create the art and tell a story through colour and texture.
Keen to explore art and creativity's impact on health & well-being and creative expression she has worked extensively with the elderly with dementia. She runs an online Arts in Health network alongside working on her blogs and websites, curating information about opportunities for those who are interested in Arts and Health activities and collaboration opportunities from around the world on the impact and benefits of Arts on Health. She also speaks at a variety of conferences and seminars and small workshops on the impact of dementia on a carer, the use of art and creativity in a care setting and strategies for those working in healthcare. Visit Amanda's website and connect with her on Instagram. **Teaching in session 2.
---
TRACI: Traci Bautista is a mixed media artist, designer and author. In 2001, she left a successful career in the Silicon Valley to pursue her passion for art and launch treiC designs LLC. She is the creator of art.journal.PLAY mixed media lab and CREATIVE SOUL visionary program, where she mentors artists, designers and other creatives to unleash their creative spirit, build creative confidence and define their unique artistic style while they flourish as creative entrepreneurs.
Her artwork has led her on a worldwide tour speaking and teaching mixed media workshops. She has guided tens of thousands of artists to PLAY and paint intuitively and encourages students to "see things differently," to let go and trust themselves as they face the blank canvas.
She is the author of three bestselling mixed media books, Collage Unleashed, Doodles Unleashed, and Printmaking Unleashed. To learn about her artwork and creative musings visit www.treicdesigns.com. To find out more about her online academy visit www.artjournalplay.com.
---
MARY: Mary C. Nasser earned her Master of Fine Arts in Studio Art: Painting from Michigan State University. In 1996 she was a visiting artist and guest lecturer in Cluj-Napoca, Romania, where she lectured at Academia de Arte Vizuale "IOAN ANDREESCU" (Academy of Visual Arts) and exhibited her work in "Deschideti U.S.A." (Open the Door) at the Casa Matei. Mary has had over 30 solo shows since 2002 and has been awarded numerous residency opportunities. Since 2007, she has participated in three public art projects in St. Louis, too. Mary's mixed-media map paintings and interview appeared in Featuring magazine. She is also a contributing artist in the book Stencil Girl by Mary Beth Shaw and and Making Art From Maps: Inspiration, Techniques, and an International Gallery of Artists by Jill K. Berry. She designs stencils for StencilGirl Products, and also designed a line of cartography-inspired rubber stamps for RubberMoon. Connect with her on Instagram and on her blog. **Teaching in both sessions.
---
DANIELLE: Danielle Mack is a mixed media artist with a whimsical painterly style. She enjoys painting and drawing faces and is influenced by nature. She was trained as a painter and has an illustrative and playful style. She enjoys the process of connecting writing with her paintings. Recording the creative process leaves an open gate for her to return at some point to add on or reflect on her growth. Painting women of color is very important to Danielle because when she went through art school there weren't many women of color in the art books. She's hoping for change in the coming generations and she's already seen lots of progress in social media and plans to be part of this movement in her own way. Connect with Danielle on her website and Instagram.
---
HANNA: iHanna is a writer, blogger and artist who enjoys art journaling, mixed media, collage, photography, books, & magical fairy gardens. She acts in a very creative inspirapreneurial mindset, and on her blog she shares art, craft and creativity form her everyday life. She has published a blog book and each year she hosts an international DIY Postcard Swap on her blog. iHanna lives in Sweden. **Teaching in session 1.

---
MIMI: Mimi Bondi is a professional mixed media artist, teacher, designer and positive energy creator!
With hundreds of paintings hanging in private collections around the world, you can tell just by looking at it that her art reflects her passion for life and love for vibrant colours.
Her recently published No Shenanigans! mixed media tutorial book and e-course are delighting more and more beginner artists around the world, resulting in a growing Facebook community of gesso-lovers and paint-covered fingers :)
Why not join her? She believes in making art easy and fun to learn, and her light-hearted teaching style will have you wondering why you didn't try your hand at painting sooner!
Born in a small vibrant town in France, she now feels lucky to call sunny Australia home where her patient husband and slightly crazy furry friend ensure she will never lose her creative spark! Connect with Mimi on Instagram: @mimibondi -- **Teaching in session 2.
---
SHERRY: Sherry Canino is a self taught mixed media artist living in Upstate NY and loves to use stencils in her work. She is currently part of the Jessica Sporn Designs creative team. She has worked as an art therapist and this is where she feels like her art has true meaning, helping others to express themselves through art and heal the broken colors inside. Her style is light and happy with lots of bright fun colors. She is an avid art journaler and was featured in Syracuse Women's Magazine for her art journaling. She often uses her art journal to test out and play with new color combinations. She loves walking at a local park by the lake and most evenings she can be found in her home studio working in her art journal with her 3 beloved pugs at her feet. You can connect with her on Instagram and Facebook and see her weekly free video series called Stencil Crush Tuesday on her youtube channel. **Teaching in both sessions.