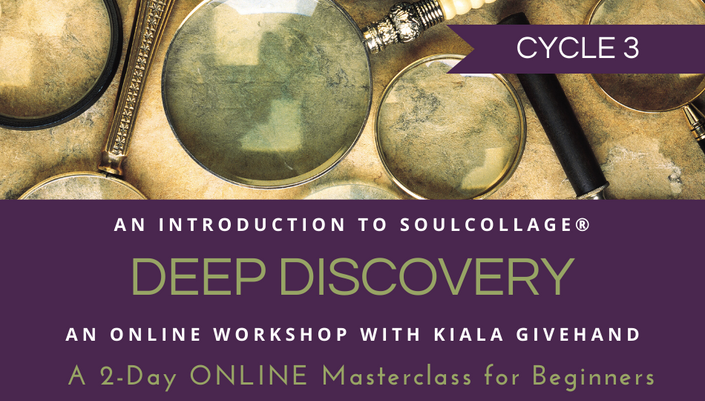 Deep Discovery ONLINE - Cycle 3
An Introduction to SoulCollage®
NOTE: This is an introductory workshop that takes place ONLINE.
We each have a living Universe inside of us!
It's there from the moment we are born. It's unique, rich, and filled with messages, desires, and directions on how to live our best lives.
When we access these messages we excavate pieces of ourselves that may be broken or that may have been hidden for years. When we allow our adventurous selves to journey to our depths, we can connect to our innermost places and breathe new life into them. This is powerful, soul nourishing work and SoulCollage® is a tool that can help us access this level of depth.
CLASS DETAILS
Do you crave deeper conversations with yourself and others? Come spend the day with yourself and your spirit sisters in a safe, inspiring, and sacred space where we can intuitively create our cards using images that will help us have deeper self-understanding. We will gather as kindred spirits build community and establish powerful connections.
During this four hour introduction, I intentionally guide you through unraveling your personal story while exploring the stories of your community and your ancestors. By sharing the SoulCollage® process with you we awaken a powerful part of you. You connect to the fire that is already burning inside you (no matter how low it may be right now) and you gain clarity about your purpose and passion. At the end of our time together, you will take home several completed cards and know how to use the cards for daily readings, journaling, and periodic conversations with the deepest parts of yourself.
This is an introductory workshop designed for those who are new to SoulCollage®. It will give you a taste of what can happen when you come to truly know yourself, share your truth, and find deep, lasting and direct connection to your inner wisdom. Once you activate this part of yourself, the transformation that can happen is beyond measure.
WHAT IS SoulCollage®
It's a transformational tool that requires no artistic skills. The concept was created by Seena B. Frost, M. Div., M.A. She understood that by using intuition and imagination we could create a set of cards to reflect the different aspects of ourselves and become more familiar with what our soul most wants, and more importantly, what it most needs.
SoulCollage® is a practice of becoming whole. It allows us to witness our own fullness, learn the power of connecting to our personal truths, and experience the people and places that have shaped who we are and who we are becoming.
We intuitively make SoulCollage® Cards using simple materials -- images, scissors, glue, and cards. Anyone can do it. Even those who say they are not creative or artistic.
You will begin creating your own deck of SoulCollage® cards and learn the practice of reading them through a self-exploration process led by me, a trained and compassionate facilitator. SoulCollage® cards are often filled with meaningful insights and guidance for your life's journey.
Your investment for this online mini retreat is $88 and includes access to replays and additional content. The supply list is below and will help you gather what you need to have a full and powerful experience.
Come learn how to make your own SoulCollage® cards! Enjoy an afternoon reconnecting to your intuitive wisdom, gaining new insights and strength, and listening in to what is most meaningful to you right now. SoulCollage® is both contemplative and fun! No artistic ability needed. All supplies will be provided.
A MESSAGE FROM THE CREATOR OF SoulCollage®
How Registration Works
When you register you will be added to the class immediately here in my online school.
You will immediately gain access to the classroom where several getting started videos will be waiting.
On March 21st and 22nd we will gather online from 10am to 3pm (with short breaks) Central Time for the actual workshop. I walk you through the steps of creating your SoulCollage® cards and we may have time to break into small duos and trios to conduct actual readings with our cards.
Participants will have 24/7 access to all videos & class content until the course is retired (this is usually YEARS down the road and you will be notified months in advance of this happening). Videos are NOT downloadable, but you can watch them from the classroom space anytime. All PDFs can be downloaded to your computer or other devices. You will need a high speed internet connection for best viewing results and to attend the live virtual session.
NOTE: This course will not be available to purchase after March 20, 2020.
Class Content
Introduction
Available in days
days after you enroll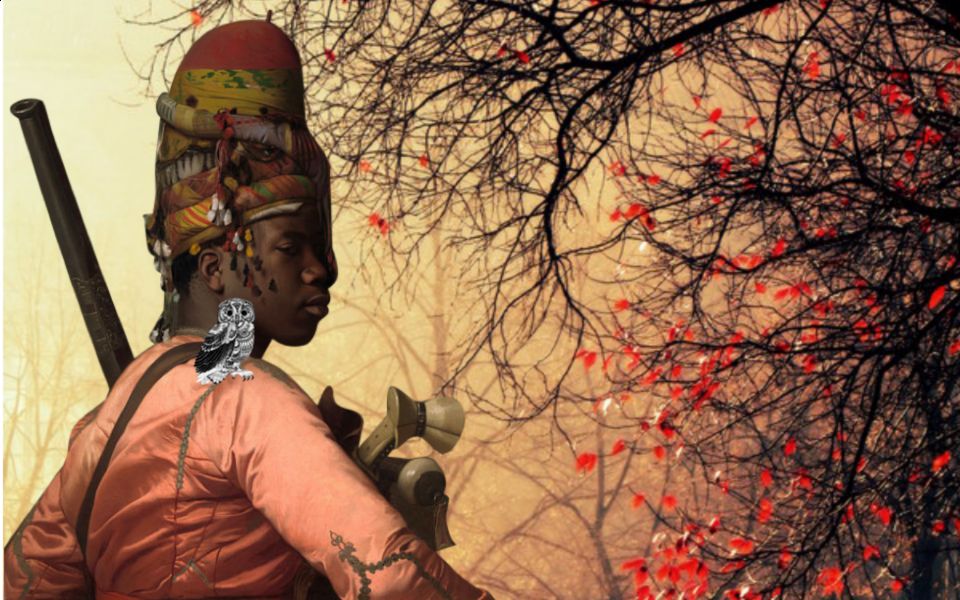 THE ONLINE WORKSHOP AT-A-GLANCE
This Workshop Includes:
Two live 5-hour virtual SoulCollage® sessions.
Full video replays of the sessions.
techniques ~I encourage a sense of playfulness and experimentation, so I will share simple techniques for creating your cards with ease.
guidance ~ I love to empower others to use SoulCollage® as a way to self-study and learn more about your soul's whispers.
sharing ~ A major component in SoulCollage® is community and reading the cards with others. This session will include time to read your cards and commune with others as they do the same. Much of the sharing happens when we are cutting and gluing our images in preparation for the conversations.
empowerment ~ I will guide you to a place of confidence in your own process and your unique story that will evolve as you consult with the cards you create.
Printable and downloadable full color PDFs ~ this is where you will get any materials I share during the session. From the poems I use to the step by step process of creating your cards.
24/7 access to the content.
Two follow up gatherings that offer additional time for more in depth readings and conversations about the things that come up during our readings. These sessions are option, but are designed to help you take your practice further. I may include additional "mini lessons" during each follow up session. For example, how to use SoulCollage® with Astrology, Tarot, and/or Numerology.
Your Instructor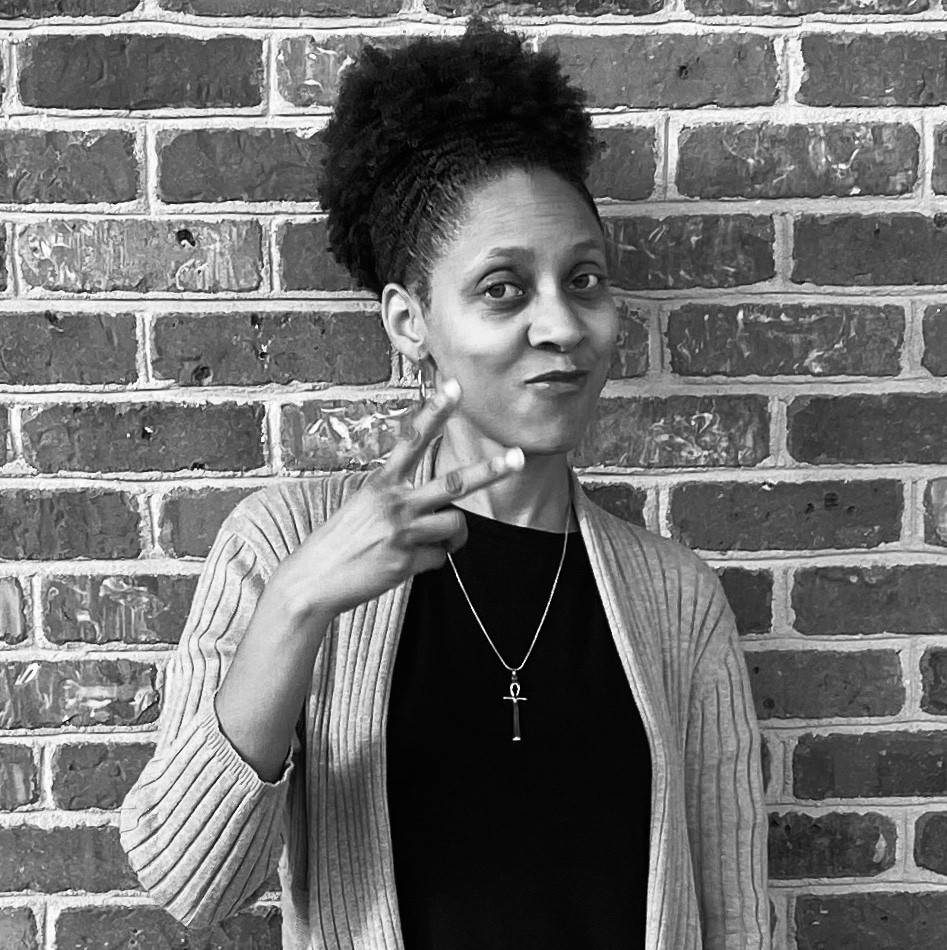 Hello Beautiful Creative You!
I'm happy you're here.
I'm Kiala Givehand, a multi-passionate intuitive & intentional creative. I walk through the world as a LifeAlchemist™ for creative, heart-centered, soul-filled women who want to change the world by shining their light more fully and more brightly. I call myself a LifeAlchemist™ because I help women bring together all the parts of themselves to create a life they love. As an Alchemist, I support women through creative and spiritual awakenings and guide them towards empowerment.
As an artist, I make (and sometimes sell) handmade journals using a mix of mediums. I host workshops, retreats and online classes where I get to teach the things that nourish my soul -- bookbinding, journaling, creative writing, and self-discovery though transformational tools and content.
For almost 20 years, I taught English, Language Arts, and Creative Writing at every educational level, while simultaneously traveling the U.S. delivering workshops and presentations to educators. While I no longer travel to work with teachers, I now enjoy working one-on-one and in small groups with students, teachers, artists, writers, and creative entrepreneurs. I do this work because I love helping women find the thing that fills them with joy and watching them pursue it without regrets or apologies.
I've done a lot of things in my short 45+ years on this planet, but I'm most proud of raising my nephew Treavor, and listening to my inner wisdom by doing the things that make me come alive. Constructing handmade books and art journals is one of those things that allows me to feel A L I V E!!! And I'd love to have you join me on this journey. Reading tarot & oracle cards, pulling astrological charts, and delving into the esoteric and ancient guidance systems is another way I help women have spiritual and creative awakenings. I'm eager to do the same for you.
I cherish every single day and treat life as one amazing adventure. I play with paint and watercolor, fold paper into books, write poetry, short fiction, & creative non-fiction, and guide women through sacred remembering of who they truly are. But always, every single day, I journal and do something that I feel is creative. Oh!! And did I mention that I'm the proud owner of a fabulous collection of fountain pens? (I know. Geek alert!)
Join me and let's create something beautiful, TODAY!!
Frequently Asked Questions
When does the course start and finish?
The live sessions are on March 21 & 22, 2020 from 10am to 3pm Central Time.
How long do I have access to the course?
All paid participants will have access to the course and the content until the class is retired. I retire classes every 2 to 3 years. You will be notified should the class be up for retirement.
What if I am unhappy with the course?
Please purchase carefully. Due to the live nature of this class, once you have registered, there will be no refunds.
What supplies do I need?
The supplies you need to create your cards can be found in my Amazon Storefront -- https://www.amazon.com/shop/kialagivehand?listId=1HS3NX0GDHQPR << That link takes you to my Amazon shop where I've listed all the items you're likely to see me using. But of course Amazon is not the only place to order your supplies. You can get them anywhere (probably in your craft room). I suggest looking at my list on Amazon first, then checking your personal stash, then shopping for only the things you don't already have. SoulCollage®, Inc. does have specific materials they suggest we all use in the creation of our decks so that when we take classes in different locations from different instructors, we will all be using similar materials and your deck will stay a consistent shape and size to make it easier to shuffle. I added a few books by my SoulCollage® mentor, Catherine Anderson because she created them specifically for SoulCollagers to use as backgrounds on their cards. They are not required, but may be helpful to those who do not have access to many magazines. If you have a question about whether a supply you have is similar to one on my list, just email me the name or a picture of what you have and ask me. The rest of this list is stuff we will use during the conversations with the cards. You can bring what you have. Here's the list:​​ a pen — I'm a bit of a pen snob, so I will likely be using a fountain pen or two, so bring your favorite pen!! a journal -- handmade or purchased -- either will do
This course is closed for enrollment.