As if those fantastic core teachers weren't enough, we've got 12 dynamic and innovative Guest Teachers as well. The Guest Teachers will bring you ONE tutorial throughout the year and join us at least once for a live session and participate in the private online forum from time to time.

HANNA ANDERSSON (iHanna)
Blog: ihanna.nu
After her family, friends and Miss Smilla (the cat) happiness comes to Hanna in the form of Creativity. She's passionately in love with creating and she lives by it religiously and faithfully – every single day. Creativity is her religion.
Hanna blogs with an openhearted and writes about the things that make her happy. She tries to be conscious of what she experiences and she willingly shares it with the world. Happiness is something that is important in all of our lives but something we rarely talk about. Hanna has many blue days that don't always let her enjoy life fully, but on other days she catches up with a vengeance!
As a journalist she loves writing and that is a big part of her life. She is also passionate about knitting, making collages, sewing, taking photos with her Nikon d50 camera, playing in her art journal, crocheting, making softies, reading books, drinking coffee while she works and being on the lookout for even more inspiration!
Connect with Hanna on Instagram -- @ihannas

*Art work does not necessarily represent what will be taught in the class.
---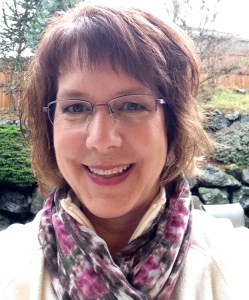 JULIE BAKER
Blog: CreativelyOnward.com
Julie is a creativity catalyst, artist, wife, mother, yoga enthusiast and graphic designer. She helps you find & claim your creative spark. She grew up in Kansas, loves Wichita State University Men's Basketball and dark chocolate. She has two teens, a tween, and a husband who rolls with her wild ideas and contributes a few of his own. Julie has a 500 hour certification to teach yoga, reads romance novels, smiles when she sees sunshine over the snow capped mountains, and believes in magic.
Connect with Julie on Instagram -- @creativeyonward_julie

*Art work does not necessarily represent what will be taught in the class.
---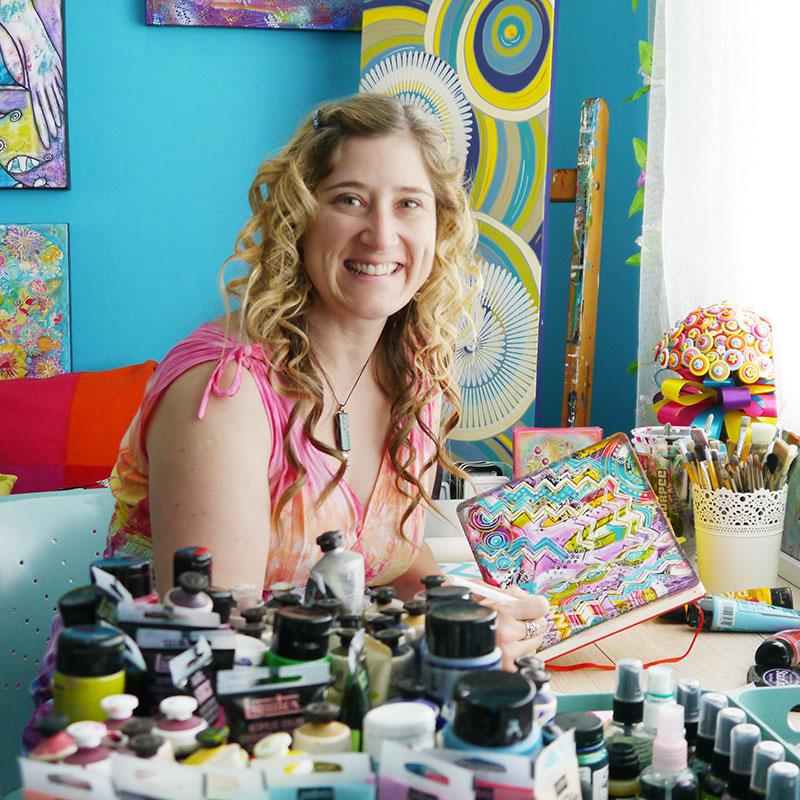 MIMI BONDI
Blog: MimiBondi.com
Mimi is a professional mixed media artist, teacher, designer and positive energy creator!
With hundreds of paintings hanging in private collections around the world, you can tell just by looking at it that her art reflects her passion for life and love for vibrant colours.
Her recently published 'No Shenanigans! mixed media tutorial book and e-course are delighting more and more beginner artists around the world, resulting in a growing Facebook community of gesso-lovers and paint-covered fingers :)
Why not join her? She believes in making art easy and fun to learn, and her light-hearted teaching style will have you wondering why you didn't try your hand at painting sooner!
Born in a small vibrant town in France, she now feels lucky to call sunny Australia home where her patient husband and slightly crazy furry friend ensure she will never lose her creative spark!
Connect with Mimi on Instagram: @mimibondi

*Art work does not necessarily represent what will be taught in the class.
---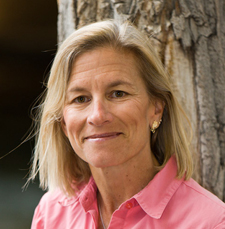 LISA DEYOUNG (aka Mountain Mermaid)
Blog: mountainmermaidstudios.com
Lisa's motto is Create Play Thrive and she strives to live her life that way. Those three words are interconnected in what she imagines to be a beautiful swirl of colorful lines created by her mermaid tail. This tail is, of course, a work in progress – as those beautiful swirls of colorful lines move and change and grow.
Create: Lisa creates lettering illustrations with inspirational messages and hand-bound journals that encourage playing with color and fun self-discovery.
Play: For Lisa, getting outside to soak up nature, move her body and let go of thoughts, along with creating, are part of her definition of play. Each day she strives to at least get outside and pedal down to the river near her home.
Thrive: Good friends, good food, water, breathing deep, yoga and sleep – along with her creative and playful practices – nourish her mind, body and spirit to thrive.
Lisa loves incorporating hand lettering and illustration into her own designs. Each month she shares a color-in play sheet to encourage creative play and self-discovery with those who subscribe to Mountain Mermaid Tales.
She also self-publishes a journal-calendar called the Daily Musing Journal.
Connect with Lisa on Instagram: @lisa_deyoung

*Art work does not necessarily represent what will be taught in the class.
---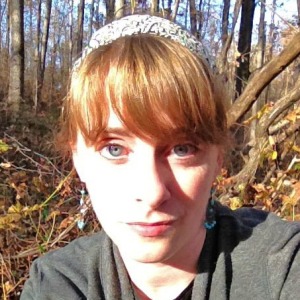 HALI KARLA
Blog/Website: halikarla.com
Hali Karla is an artist, writer and teacher passionate about cultivating holistic creativity as a way of navigating life and relationship. She enjoys gathering visionaries for workshops, collaborations and circles that inspire self-acceptance, celebrate wholeness and honor interconnection. Her soulful perspective and therapeutic background offer a meaningful framework for both her imagery and how she guides others, which has been described as evoking a sense of the sacred, and nurturing safe space for truth-telling and courageous transformation. She encourages trust in the mind-body-spirit-nature of each individual, as well as intentional relationship with creative energy and intuition as a way toward empowered healing, vitality and joy.
The creative process and her daily practice guide ground her life and work in the world.
Connect with Hali on Instagram -- @halikarla

*Art work does not necessarily represent what will be taught in the class.
---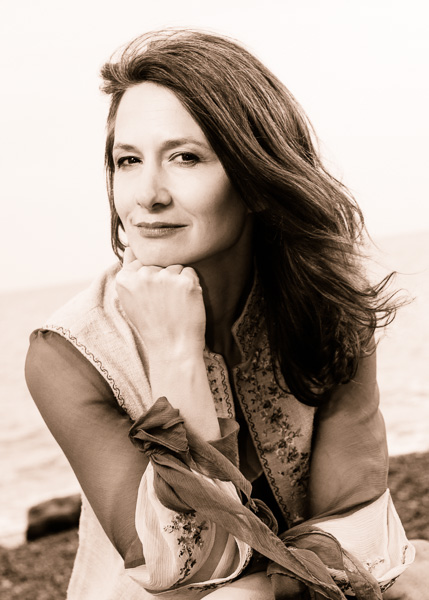 LISA MCLOUGHLIN
Blog/Website: LisaMcloughlinArt.com
Lisa is on a journey back to herself to discover her own innate wisdom. This is reflected in her powerful desire to craft beautiful and evocative artwork that helps you connect with your own heart and soul.
Combining her experience as a physiotherapist and coach, with her intuition as an artist, she makes nature-inspired gifts such as oracle cards. She also paints how your business feels by creating handmade illustrations for digital spaces.
Connect with Lisa on Instagram -- @LisaMcloughlinArt

*Art work does not necessarily represent what will be taught in the class.
---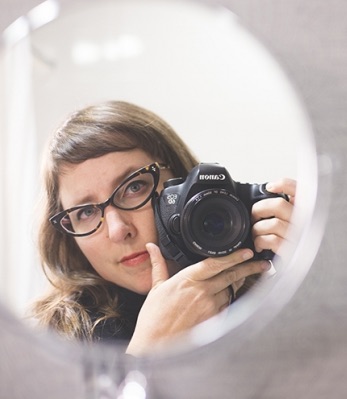 VIVIENNE MCMASTER
Blog/Website: VivienneMcmasterPhotography.com
Vivienne Mcmaster is a photographer, writer, body image activist and self-compassion force based in Vancouver, Canada.
She helps incredible, creative and giving people shift the way they see themselves. She helps them learn to offer kindness and compassion to themselves and to treat themselves as they would a beloved. Vivienne shakes up people's perceptions of what a 'selfie' is and invites them to reclaim it from the idea that it is selfish or narcissistic. Instead the selfie becomes a tool for personal storytelling, for creating a visual narrative of our lives and a way to reclaim how we see ourselves.
She believes that the camera can be a doorway to seeing ourselves with more compassion and self-kindness. Because we have these tender stories and experiences in our relationship to our self-image through photos, it can also be a place of reclamation, of learning to stand in our personal power and rewrite the visual story of how we feel about ourselves in and out of a photo.
Vivienne does this work because she has lived the experience of having a deeply negative self-image. She didn't think there was any way those ingrained beliefs about herself could change, nor was she looking for photography to change them for her. But it did. It was through the lens that she was able to transform those old stories of self-hate into an ever evolving relationship of kindness and compassion. She does this work because she's lived it and she believes that this kind of compassionate change is available to all of us (especially now that cameras have become so accessible).
Connect with Vivienne on Instagram -- @viviennemcm

*NOTE: Viv won't be teaching a traditional lesson. She and Kiala will share an EXCLUSIVE on camera interview to help provide some context around what it means to take a year-long journey within. Viv will share tips and ideas for using photos as a means for documenting your journey.
---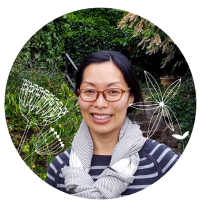 YUKO MIKI
Blog/Website: HoneyBerryStudios.com
Yuko is an artist and print-maker known for her simple and friendly style. She grew up in the small town of Himeji, Japan, surrounded by rice fields and mountains. Her creative inspiration comes from nature, animals, and the simple joys of everyday life.
She currently lives and works out of her tiny apartment in Seattle, Washington with her husband, Dave, a black kitty named Shepherd, a.k.a. Sheppie, and two budgie parakeets, Gerty & Lenny.
Yuko quit her social service work of 14+ years to pursue her passion for art full-time and she's learning a bunch every day. You can learn more about her journey on her blog.
Connect with Yuko on Instagram -- @honeyberrystudios

*Art work does not necessarily represent what will be taught in the class.
---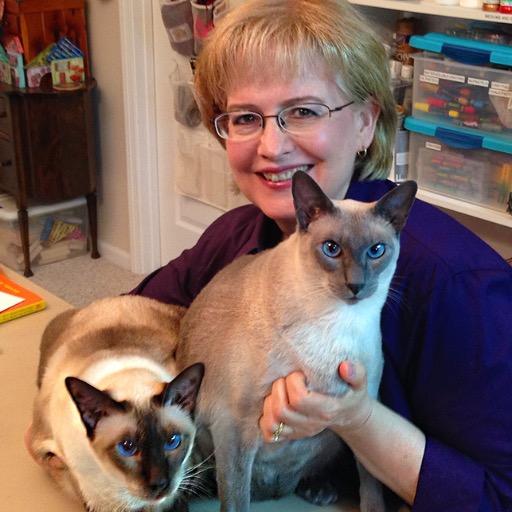 BARB OWEN
Blog/Website: howtogetcreative.com
Barb Owen is the founder of HowToGetCreative.com, a best selling author, and has an unhealthy addiction to smiles. You can have fun with Barb at HowToGetCreative.com as she explores all kinds of imaginative artistic projects in the world of Art Journaling, Fiber Arts,Hand Crafting, Sewing, Doll Making and much, much more… and remember – It's Easy!

You can connect with Barb on Twitter, YouTube, and Facebook.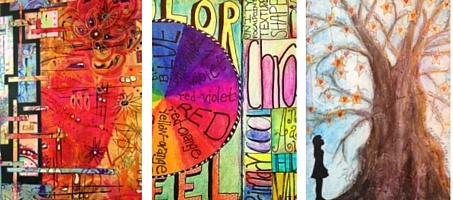 **Art work does not necessarily represent what will be taught in the class.
These are examples of work Barb's art journal and are NOT for sale.
---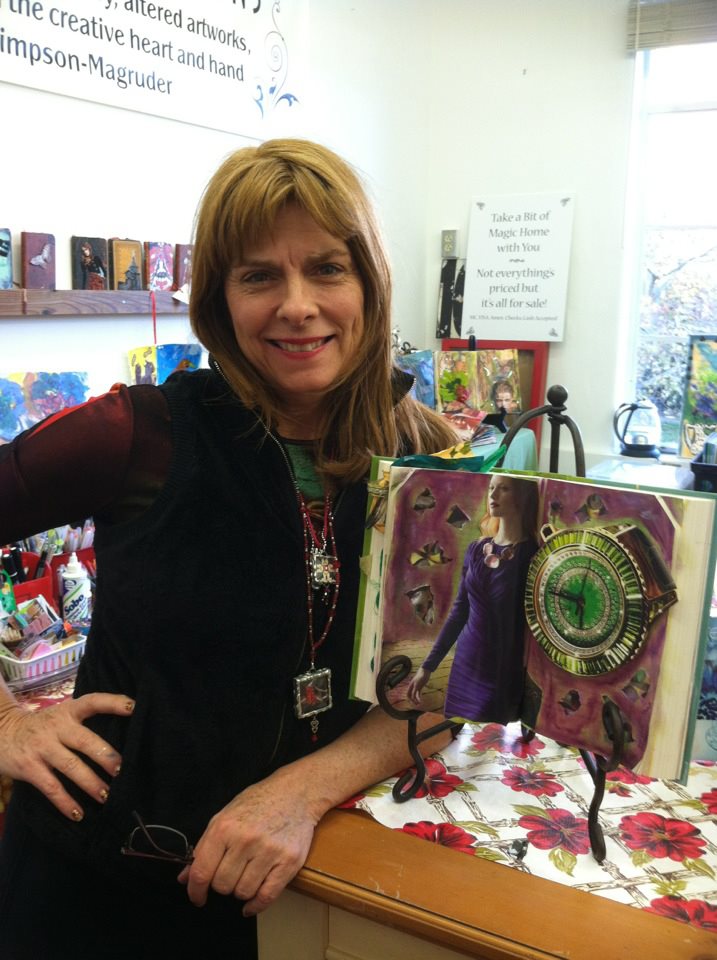 VIRGINIA SIMPSON-MAGRUDER
Blog/Website: KentuckyGirlDesigns.com
Virginia danced toward and away from art for over 20 years. Much of the moving away from was due to what I guess you could call "artistic paralysis" ~ She heard the muse but went internal with it instead of externally expressing it through art.
But somehow her art keeps emerging, and in the past eight years her creative spirit has grown deeper and wider, and taken on a life of its own.
Virginia is an altered book and collage artist. She creates from her studio in Novato, California, where her creative explorations include travel journals, altered books, and Wild Spirit Animal Pendants.
She never thought of herself as an artist or as creative, but now she uses a daily art practice to unfold her creative vision each day.
Connect with Virginia on Instagram -- @kentuckygirldesigns

*Art work does not necessarily represent what will be taught in the class.
---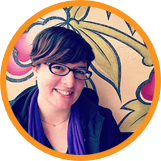 TORI WEYERS (aka DrawRiot)
Blog/Website: DrawRiot.com
Tori has a passion for design, mixed media and story telling and she strives to create work that engages and delights the viewer with a rich narrative, strong composition and unique subject matter. She currently spends her days as a creative director and her nights teaching mixed media at the Indianapolis Art Center.
In her spare time she creates art in her home studio and spends time with her family.

*Art work does not necessarily represent what will be taught in the class.

---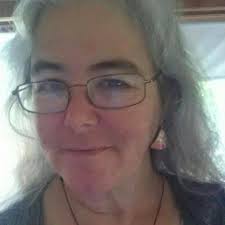 SADELLE WILTSHIRE, CZT
Blog/Website: TangleVermont.com
Sadelle Wiltshire is a Veriditas-trained Labyrinth Facilitator, Fiber, Jewelry and Mixed Media artist/workshop leader and Certified Zentangle® Teacher (CZT) from Putney, VT. She has been creating and teaching art in one form or another for over 20 years, and has taught both fiber and mixed media art from New England to Colorado, with a strong focus on inspiring creativity and trusting one's voice. Sadelle says..."I've always had my hands into something, since the time I was very young, and for a long time my creative outlets were things I could feel and touch, creating objects with a texture, from raw wool to wire, fabric, paper, beads and threads. In 2010 I discovered the Zentangle method drawing, which brought me back to 2 dimensional art, and I appreciated how much it fit with the intuitive way I've always taught, especially focusing on t he mindful and encouraging aspects it brings out in people. I really enjoy blending the meditative with the parts of art that bring out the joyful play that we too often leave behind in childhood. " Sadelle enjoys making beautiful colorful messes, practicing and teaching with a view towards mindfulness, creativity, and all things spiritual. When not making art, she can be found walking and leading labyrinth walks, and helping people with their Wordpress and website needs. Connect with Sadelle on Facebook or her website, Tangle Vermont


*Art work does not necessarily represent what will be taught in the class.