YOUR PULL • PEN • PAINT INSTRUCTORS: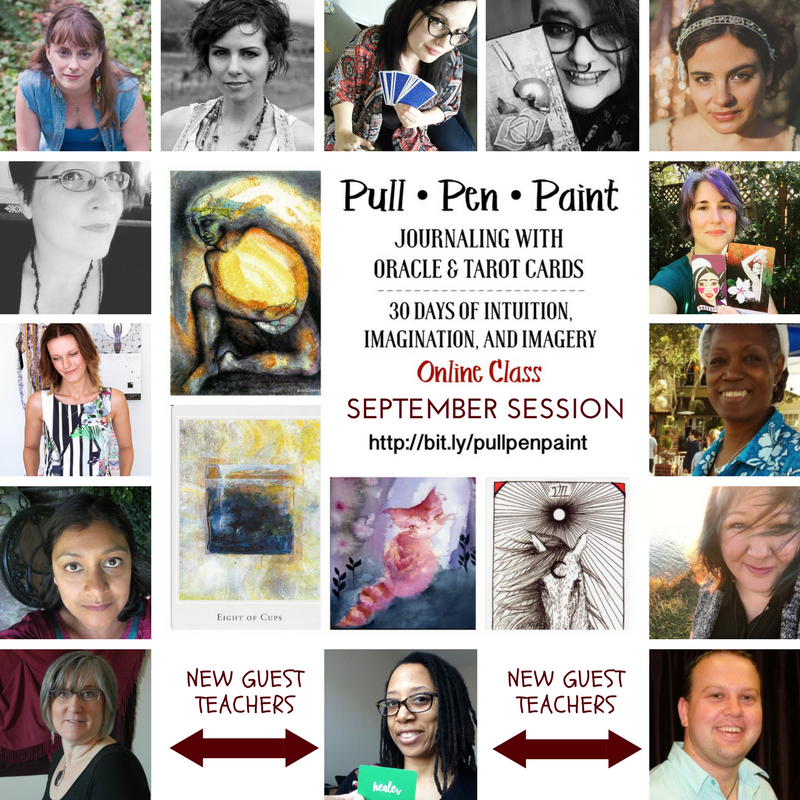 VANESSA SAGE -- Vanessa Sage's work focuses on self-compassion, inner-bravery, and discovering the mystery in our everyday lives. She offers spiritual and business mentorship, Priestess training, and tarot readings to help you enchant your everyday, bring your imagination to life, and listen to your wild soul's calling! She has a PhD in cultural anthropology, and spent many years studying Buddhism, pilgrimage, and alternative spirituality as an anthropologist of religion. You can find her at http://vanessasage.com/

JO KLIMA -- Jo Klima is an artist and creative who loves seeing creative projects come to life, to add beauty, colour and meaning into the world. Her desire is to discover, unearth and understand herself more deeply, and continuously learn new ways and beliefs that will continue her journey into her highest self. By experiencing her own truth, growth and purpose through creativity, she aims to help others do the same.
Jo seeks visual inspiration from geometry and sacred symbology, animals, crystals, nature, astrology and art and design. This is interwoven with spiritual inspiration received from the Divine Feminine, dreams, meditation, tarot, the universe and the wisdom of other artist and writers. Connect with Jo on Instagram and on her website.
HALI KARLA -- Hali is an artist and guide passionate about cultivating holistic creativity as a way of navigating life and relationship. She enjoys gathering visionaries for workshops, collaborations and circles that inspire self-acceptance, celebrate wholeness and honor the mystery of interconnection.
Her soulful perspective and therapeutic background offer a meaningful framework for both her imagery and how she guides others, which has been described as evoking a sense of the sacred, and nurturing safe space for truth-telling and courageous transformation. She encourages trust in the mind-body-spirit-nature of each individual, as well as intentional relationship with creative energy and intuition as a way toward empowered healing, vitality and joy. The creative process and her daily practice guide and ground her life and work in the world. Connect with Hali on Instagram and her website.
M. RUTH McCANTS -- M. Ruth McCants, has for more than 35 plus years been on a quest, exploring the intuitive arts, through astrology, numerology and tarot/oracle card systems. This exploration has centered on using these systems as cosmic and Soul messengers for gaining clarity, self-mastery, and understanding of the co-creation process. She is a prolific journal writer, and has just recently discovered visual, mixed media and art making as wonderful companions for intuitive guidance. Through her studies and work in astrology she has developed an astrology system, called "Walking the Wheel through Understanding Your Life Map". which explore the archetypal energies that are at the heart of intuitive self direction and guidance.
As part of living her own "Life Map", Ruth combines vibrational energy with the intuitive guidance through sound healing, music and drum circle facilitation skills which is specially focused to encourage women toward embracing and freeing their Divine feminine and intuitive powers. Connect with Ruth on Instagram and her blog.
KIALA GIVEHAND -- Kiala is a mixed media book artist, creative business strategist, and avid journal keeper. She collects fountain pens, blank journals, and tarot and oracle decks. Her most recent interests have taken her into the realms of Astrology, Numerology, and the beauty and power of sacred symbols (especially mandalas). Kiala is the curator of this course and feels tremendously honored to share space with these amazing women. Connect with Kiala on Instagram and on her blog.
JULIA EVE -- Julia Eve is a passionate tarot practitioner who was lucky enough to grow up in a family that not only allowed, but encouraged such exploration. Having worked with Tarot for over 20 years, Julia Eve is dedicated to bringing its beauty, wisdom and magick to fellow seekers across the globe. Julia Eve is a Certified Spirit Guide Coach and believes Tarot is an invaluable tool to connect not only to Spirit, but to self; combining logic with intuition to affirm, inspire and inform the way forward. Connect with Julia on Instagram and on her blog.
RACHAEL CARINGELLA -- Rachael is an artist, an illustrator, intuitive reader and healer. And deep down, she feels she is just like you. A rebel and truth seeker. She knows that there is so much more to this life than what has been shown to us. Magic is real. And your wild nature will take you to it.
Rachael spends her days in a little cabin painting and dancing, sipping delicious coffee, reading tarot cards and illustrating a variety of projects. When she's not in her studio she can often be found wandering the woods, honoring her wild nature in the great outdoors searching for beauty adventure and inspiration. Connect with Rachael on Instagram and on her website.
NICOLE PIAR -- Nicole is an artist and author with a BA in Art from Yale University. She is the creator of the wildly popular Spirit Cats Inspirational Card Deck – a playful, intuitive tool for clarity and healing. She has illustrated for the gift, stationery, fashion and home decor markets for the last 10 years and recently moved into the publishing world. Her work balances on the vivid intersection of art, storytelling, intuition, healing and dreams. Connect with Nicole on Instagram and on her website.
MONICA GARCIA -- Monica is a divine guide, helping people to find their own inner wise guidance. She gets to do this through playing with tarot and oracle cards, engaging with creativity in all of its forms, and connecting deeply with Spirit. Monica gives workshops, online classes, and soon retreats! She also works deeply one-on-one with clients to unlock the fountain of creativity and wisdom that resides within us all. She's feeling so joyful to be a part of this wonderful course with you all! Connect with Monica on Instagram and on her blog.
EFFY WILD -- Effy Wild is a journal artist & on line teacher. She likes to write & share about art journaling as a spiritual practice, and her go-to tool for healing & life documentation. She's a mother of grown children, and lives with an adorable furbaby in a three story walk up apartment in Ontario, Canada. You can find Effy at http://effywild.com
CRISTIN STEVENSON -- Cristin is also known as PanArt. She's a mixed media artist and art journaler from north Missouri. Art is her passion and she loves to share that passion with others via teaching and sharing her work locally as well as online. Currently, she has artwork all over the United States - and internationally! Whether it be a commissioned painting, a mixed media piece, a page in her art journal...Cristin is constantly creating. She loves painting intuitively, painting portraits, creating whimsy, and using art as her "therapy". Art is the way that she expresses herself, captures moments and releases and she loves sharing that with other people. Connect with Cristin on Instagram and on FacebookFacebook.
BINDI SHAH -- Bindi's journey to her soul offerings started in 2001 with a visit to an Ayurveda retreat in India. After discovering how good it felt to receive deep natural health-care and what a difference this made to her life, she embarked on a course in India to learn more of this ancient art. The year-long study in India included theory from the ancient scriptures, learning the poetic language of Sanskrit, vedic-astrology, yoga, meditation and herbs. It was an amazing experience and on returning to London, she set up her business helping people with the knowledge she had gained.
While treating people for various conditions, Bindi realised that the key to a lot of physical problems lay in emotional issues. She started meditating more herself and teaching more of this ancient practice as a technique for healing. Healing herself from a past life trauma led to the development of the Soul Healing Meditation. In this meditation the person directly connects with their inner self and essence, the soul. The insights received from this connection help the person heal on a deeper spiritual level.
Bindi has wonderful soul offerings in her online school and is writing her first book based on life coaching techniques which have helped her and her clients. Connect with Bindi on Instagram and on her blog.
TERRY BOWEN -- Terry is a Mystic, Spiritual Medium, Coach and Interior Alignment Practitioner. He loves helping people to live the life they desire. He uses different modalities and techniques that he has learned to help people create positive changes in their lives. He offers workshops and retreats in the UK, as well as personal one-to-one consultations, coaching and spiritual mediumship readings using his intuition to help people in their lives. Terry gives regular demonstrations of clairvoyance in the UK and has also travelled to South Africa, Canada and the USA to demonstrate. He loves to connect people with their loved ones that are in Spirit. His goal is to prove that love never dies and that our Spirit does live on.
Terry facilitates various workshops and development groups, teaching others to connect and receive messages from their loved ones, developing their own mediumistic gifts. He has studied extensively with Denise Linn since 2008, training in her in person and online programs to become a certified Soul Coach, Past Life Coach and Gateway Dreaming Coach. Having transformed his own life through these life changing programs, Terry enjoys helping his clients discover who they are, and gently guide them to create a life in connection with their own goals and values. He graduated from the Interior Alignment® school of Feng Shui and Space Clearing and uses this wonderful modality to enhance his work as a coach, so that people can make lasting changes within their lives and personal spaces. Connect with Terry on his website.
SHELLEY KITCHING -- is a Spiritual Teacher, who has spent over two decades learning to live authentically. She is a Certified Soul Coach®, a Past Life Coach, an Archangel Life Coach and a CACR™. She has spent most of her adult life searching for meaning, as she struggled with depression. She has taken what she learned during years of therapy, combined it with her spiritual knowledge and created a school for helping people live authentically. Connect with Shelley on Instagram.
KRISTEN RADDEN -- Kristen has a lifelong passion for studying symbolism in many forms. From an early age, she interpreted symbols. At ten, she helped friends interpret their dreams and decode their personal symbols. At 12, she discovered handwriting analysis and all the secrets you could discover in the beauty of a simple scribble. Her passion is helping people see the symbolic patterns in their life and ways to use them for problem solving and self-discovery.
As a soul coaching instructor, Kristen has led students to a better understanding of themselves through dream work, archetypes and shadow exercises. She's also a divination junkie who has studied a variety of divination systems including tarot, oracle cards, playing cards, dowsing, dice divination, and charmcasting. In the late 1990s, she developed her own system of reading playing cards and was pioneering cartomancy instruction on the web under the name Twelve of Hearts Cartomancy.
After reading tarot and oracle cards for over 20 years and parting ways with at least 200 decks, she decided to create her own decks. To date, Kristen has created more than 20 unique tarot and oracle decks for prediction, guidance, and self-discovery. You can check our her decks HERE and connect with her on Instagram to get sneak peeks of the new decks she's planning. And, as a bonus, Kristen was one of the interviewees for the first session of Pull Pen Paint -- you'll find that recorded interview in the classroom once you sign up.