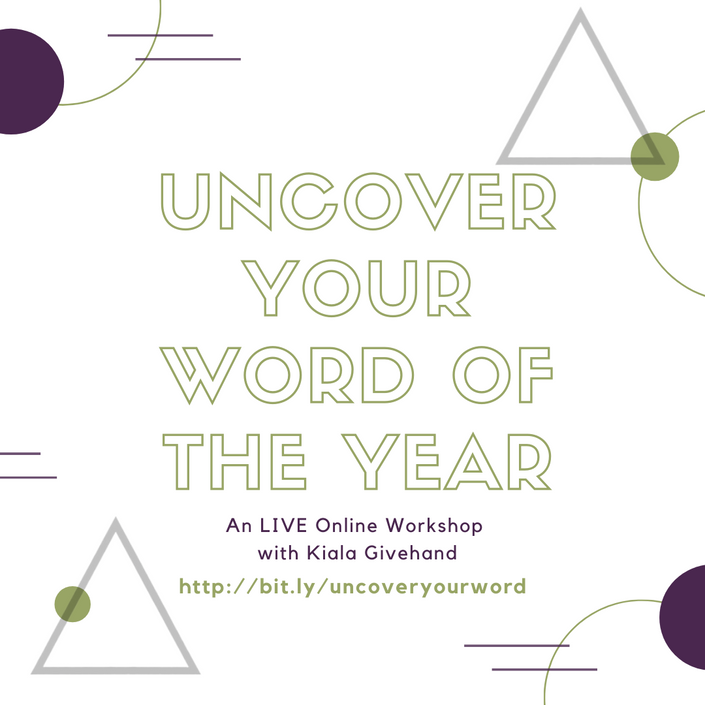 Uncover Your Word 2020
Intuitive & Intentional Ways to Connect to Your Word of the Year
LIVE SESSION -- Monday Dec. 30th 2PM to 4PM Central Time
During this 2 Hour ONLINE Workshop I will guide you through intentional and intuitive steps for unearthing your word of the year.
•••••
We will gather, ground into the space, set intentions, and go through a series of guided activities to help you define or redefine your word of the year.
•••••
Already picked your word?
•••••
Fantastic!!! I'll also take you through the steps you need in order to build a loving and collaborative energy with your word. I'll share powerful and divine ways of connecting to your word, engaging with it, and truly owning and embodying your word throughout the year.
After all, sustainable, reliable, and repeatable connections with your word is how you will truly see the impact of the potent process.
•••••
This worksop is for anyone who wants to harness the power of deliberate and INSPIRED ACTION for the year. It includes:
•access to the live session on Dec. 30th
•recorded replay after the session
•a guidebook for maintaining your practice throughout the year
•bonus recorded videos for expanding your yearly focus and intentions
•a one hour check in June (the halfway mark)
•a celebration call at the end of 2020
•••••
This is a fun & highly interactive session. Bring your markers, watercolors, crayons, pens, journal, and oracle or tarot cards. We are going to stretch ourselves and expand into all that 2020 has to offer.
Your Instructor
Hello Beautiful Creative You!
I'm happy you're here.
I'm Kiala Givehand, a multi-passionate intuitive & intentional creative. I make (and sometimes sell) handmade journals using a mix of mediums. I host workshops, retreats and online classes where I get to teach the things that nourish my soul -- bookbinding, journaling, creative writing, and self-discovery though transformational content. I am also a life & business strategist for creative, heart-centered, soul-filled women who want to change the world by shining their light more fully and more brightly than ever before.
For almost 20 years, I taught English, Language Arts, and Creative Writing at every level, while simultaneously traveling the U.S. delivering workshops and presentations to educators. While I still travel occasionally to work with teachers and writers, I now enjoy working one-on-one and in small groups with students, teachers, artists, writers, and creative entrepreneurs who want to identify their passions so they can embrace their gifts and talents through the empowered expression of their deepest desires. I do this work as a Creative Business Strategist because I love helping others find the thing that fills them with joy.
I've done a lot of things in my short 40+ years on this planet, but I'm most proud of raising my nephew Treavor, and listening to my inner wisdom by doing the things that make me come alive. Constructing handmade books and art journals is one of those things that allow me to feel A L I V E!!! And I'd love to have you join me on this journey. CLICK HERE if you want to see a gallery of some of my art journal pages.
I cherish every single day and treat life as one amazing adventure. I play with paint and watercolor, fold paper into books, write poetry, short fiction, & creative non-fiction, and sometimes I blog. But always, every single day, I journal and do something that I feel is creative. Oh!! And did I mention that I'm the proud owner of a fabulous collection of fountain pens? (I know. Geek alert!)
Join me and let's create something beautiful, TODAY!!