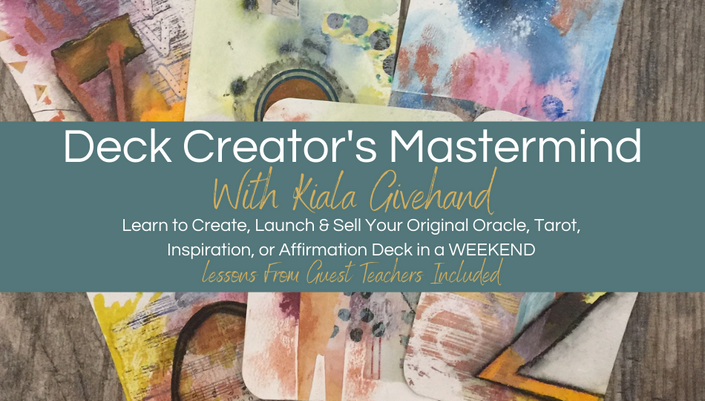 Deck Creator's MasterMind Cycle 7
Create, Launch, & Sell Your Original Tarot, Oracle, or Inspiration Deck
Enroll in Course
Dear Beautiful Soul,
Are you ready to bring a deck into the world?
Do you have an idea for a deck (or 10) that you think will inspire people?
Have you been making art for years and finally have a body of work that could be featured in an oracle, inspiration, or tarot deck?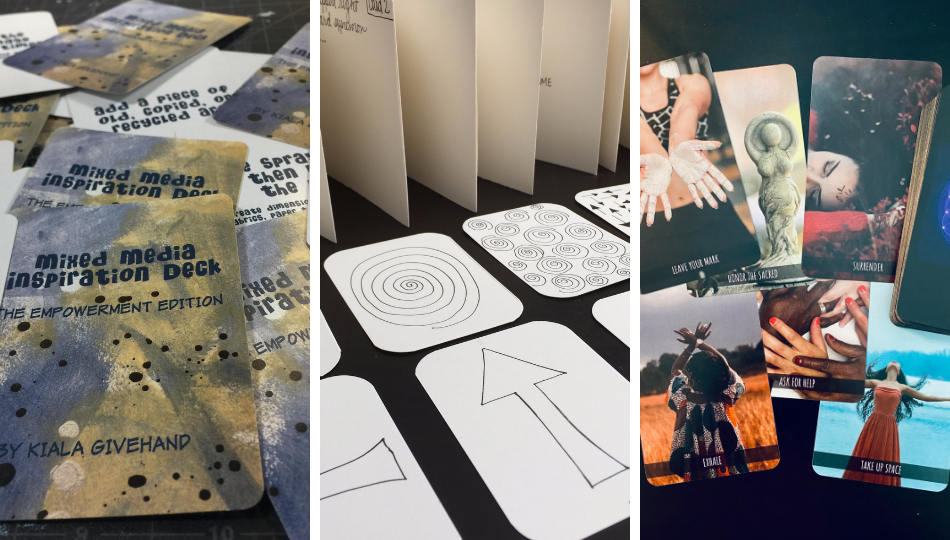 Pictured left to right: The Mixed Media Inspiration Deck, The Inquiry Oracle (personal deck), The Everyday Goddess Deck (forthcoming)
Then you are in the right place.
Join us for a fun-filled, INTERACTIVE journey through all the ways you can create, publish, market, and sell an oracle, tarot, affirmation, or inspiration deck that you create from your original idea. I invite you to The Deck Creator's MasterMind.
This unique class, in its third session, is the next step after taking Artful Affirmations and Original Oracles or after spending time creating a deck and not know what to do next. I created the class for those who want to actually earn money selling their decks. We start with a virtual weekend together where we will discuss the following topics:
1. Idea Generation - Deciding on your deck's theme and details. Working on multiple decks at once. From book to deck and back again. New this cycle -- 10 Ways to Generate Ideas for Decks, Mind Mapping Your Deck, and .
2. The Power of the Prototype - Creating a "working" deck and all the ways to work with it. The positive reasons to create a prototype. A Prototype checklist.
3. Design and Creation -- testing, prototype revisions, various ways to design and create your deck to make it a tangible item, and the technology behind the process. Digital apps for editing, manipulating, and adding layer, texture, and depth to your decks.
4. Distribution Options -- Are you in the business of shipping? Wholesale options. Kickstarter behind the scenes with Jamie Sawyer, Creator of The Pocket of Peers Tarot, The Sawyer's Path Tarot, The Sawyer's Path Lenormand, and Sawyer's Nature Portals.
5.
Marketing, Launch Plans, and Promoting Your Deck --
crowdfunding, proof of concept, and strategic placement. A session focused on marketing your deck(s).
Included again this year
-- Jamie Sawyer's replays where she shares her process for creating TWO wildly successful Kickstarter Campaigns for
Pocket of Peers Tarot Deck
and
Sawyer's Path Tarot Farewell Tour Decks
.
6. Extensions and Expansions -- Now the deck is done. What's next? + The deck as catalyst. Turn the deck into a class cheatsheet.
GUEST TEACHERS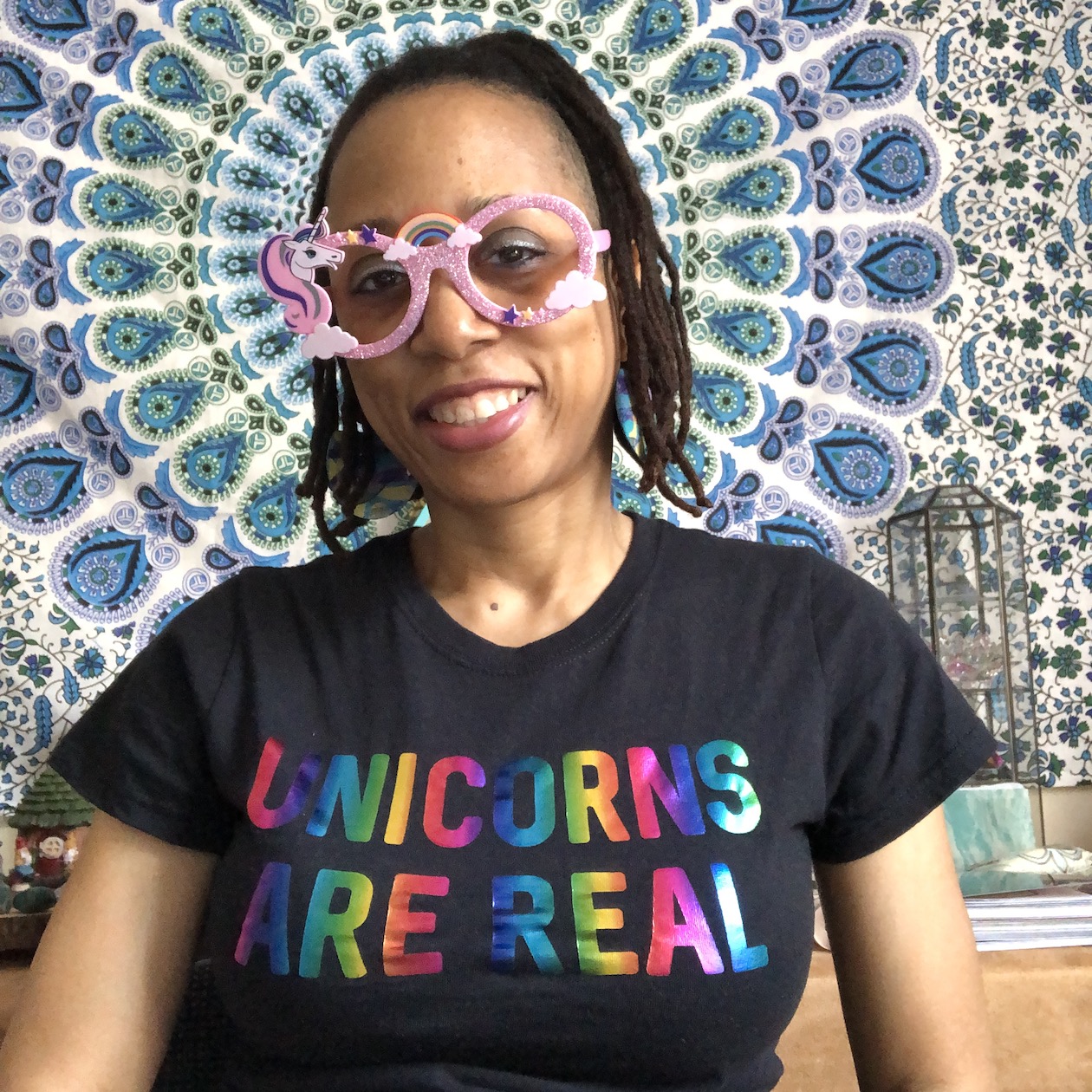 SPECIAL GUEST INSTRUCTOR: Kristen Radden (OverTheMoonAcademy) - Creator of more than 50 decks, Kristen has mastered the art of creating and is an expert at finding and using image editing/manipulating applications to create unique decks with layers, texture, and depth. She will be sharing her creative process, the applications she finds useful, and giving us a tour through her personal collection of DIY and printed decks.
Kristen has several creative lessons in the Deck Creator's Mastermind as she has taught in several cycles of the program. This session she will be teaching on the topic of creating your own system for your deck.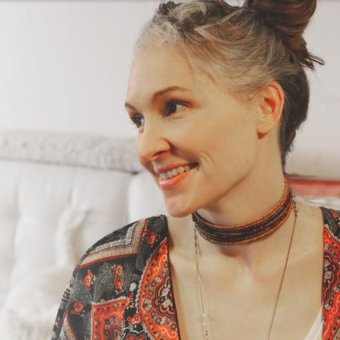 SPECIAL GUEST INSTRUCTOR: Chris-Anne Donnelly (@pixiecurio) is a deck creator, artist, and magic-maker, as well as a marketing strategist and owner of Pixelbrand--a branding and graphic design company. She has successfully Kickstarted three independent card decks: The Sacred Creators Oracle, The Light Seer's Tarot, and The Muse Tarot and she offers unique courses for creators that combine marketing and branding with manifestation and intuition. Her most recent deck is the Tarot of Curious Creators and all of her decks are now published with Hay House.
NEW THIS SESSION: Chris-Anne will join us on Saturday of the Mastermind weekend and share her experience as a multi-deck creator, branding your deck, indie publishing vs working with a publish house, and much more.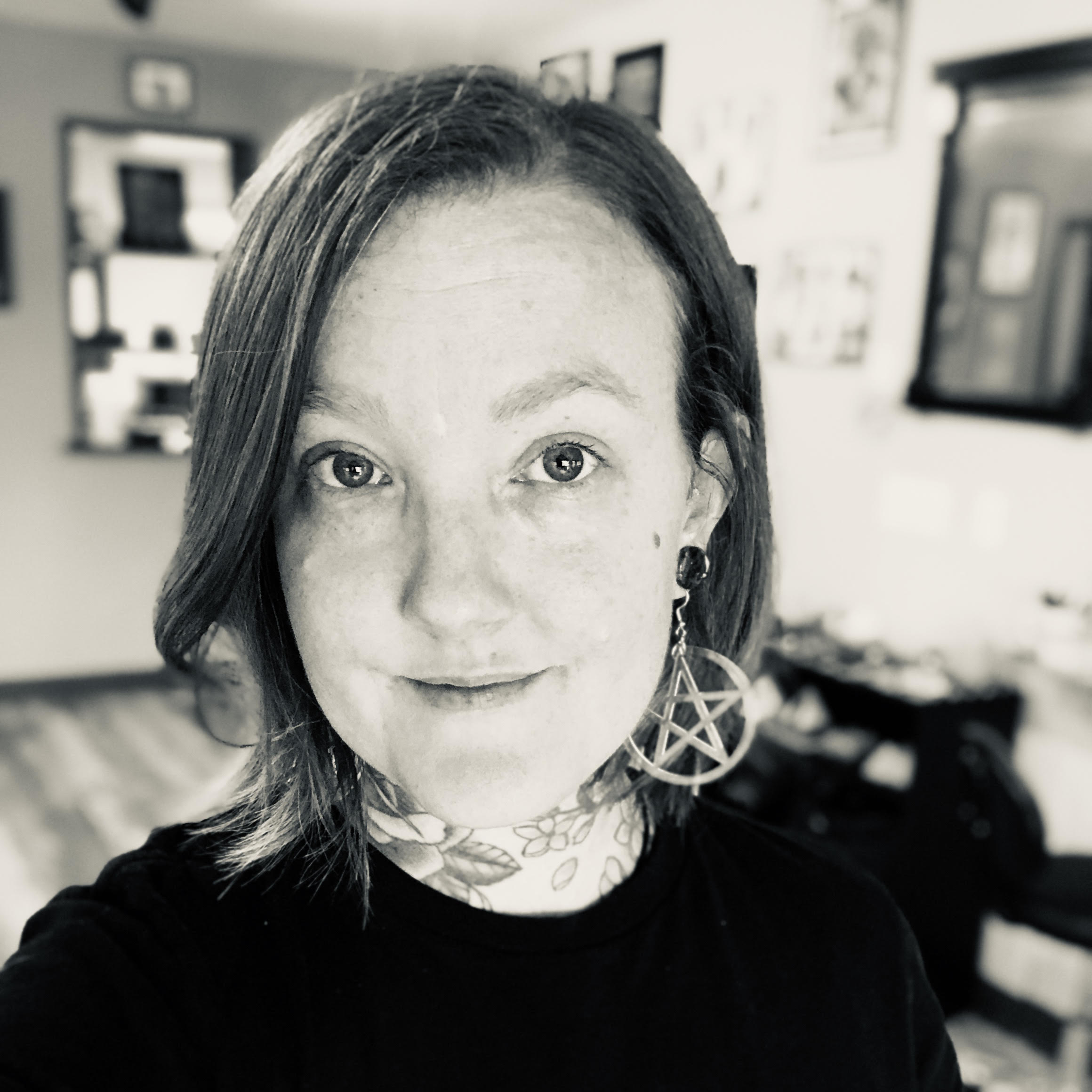 SPECIAL GUEST INSTRUCTOR: Jamie Sawyer -- (Jamie Sawyer Online) Creative, busy mind. Creator of Sawyer's Path Tarot, Sawyer's Lenormand, Sawyer's Nature Portals and Pocket of Peers Tarot. Jamie makes tools for creative divination -- from Tarot Tiles to casting boards, and more! This cycle Jamie has even more to say about Kickstarter and will talk about her decision to do it again after thinking she would NEVER run a Kickstarter again.
In the cycle of the mastermind Jamie's lessons revolve around her experience with running successful Kickstarter campaigns multiple times.
SPECIAL GUEST INSTRUCTOR: Rachel Torda -- (The Dreaming Lotus) Artist, writer, seeker. Rachel is a past student in the Deck Creators Mastermind and the creator of The Flow Tarot: A Deck of The Water Element. She makes things. And she is endlessly curious about the connection between the seemingly everyday, and the magic lurking just beneath the surface….
Rachel paints watercolors, writes, teaches art classes, creates tarot and oracle decks, and makes jewelry. She teaches college philosophy students about Hildegard, the 10th century Christian mystic. She plays Hildegard's music on the harp, bakes her 1,000-year-old recipe for cookies, and shares her bits of wisdom handed down through the ages. Rachel gardens, hikes, knits, journals and does a million other things — including running a 100-year-old Letterpress in her garage — with her husband and daughter, her partners in crime.
In the class Rachel shares how she uses both Procreate and Photoshop to create, edit, and produce her decks.
Here's how the MasterMind will work:

When you register, you gain access to the PRE-WORK so that you can begin to clarify your deck ideas immediately. This part is important. Please begin before the Mastermind Immersion Weekend.
We then meet on Friday October 21st for a 5-hour session (12PM to 5PM Central) where we have a meet and greet with participants and begin talking about your deck ideas. You'll have the night to sleep on your idea (or if you're a night owl, the rest of the night to brainstorm, plan, and get ready for the day of mini lessons on Saturday).
On Saturday October 22nd we will meet from 9AM - 1PM Central for a four hour session to prepare you for a day of creating your deck. You'll then be sent off to work on your deck with instructions on creating the prototype of your deck. We will then reconvene (3:30PM to 5PM Central) for Q&A time, information sharing, more prototyping, and next steps. This day we will dive into the process of moving your deck from a personal deck to a full fledged business venture that makes you money. Part planning, part action, we will spend the day getting clear on what we want to do with our decks and how we want them to look. I'll be in on the private discussion board answering questions and giving assistance into the evening.
On Sunday October 23rd, we will meet from 9AM - 12PM Central for a quick check in, Q&A, and work session to discuss writing a guidebook and other elements that need to be added to your deck. Then we will reconvene from 2PM to 6PM Central to discuss topics around packaging, distribution, and marketing. I'll even walk you through how to make an effective launch plan. We will take a short break and eventually finish the day with a celebration of what each person has accomplished.
Once we end on October 23rd, you'll spend a week working and refining your prototype deck. Then we will meet for a one week progress check-in, celebration of your deck, and to answer your questions on Sunday October 30th (3PM to 4:30PM Central). After that, you'll have the month of November to work on further refining and defining your deck idea and getting it market ready. You'll have my support along the way and be invited to share, ask questions, and move your deck forward.
Then, we will end our cycle by reconnecting a month from our Mastermind weekend on November 20th (3PM to 5PM Central) to do a final wrap up of the class, share links to your completed decks, and celebrate the joy of holding your deck in your hands.

If this sounds like the level of support you want, join today. The seats are limited so that I can get to know each participant's idea and help them bring it into the world.

Option 1: $222 -- Regular Registration -- one seat in the class and access to all the materials, content, calls, and the 3-day event.
Option 2: $333 -- Add a Call With Kiala -- everything in Option 1 + a 60 minute one-on-one call with Kiala (valued at $330 without the class).
Option 3: $444 -- Add a Side-by-Side with Kiala -- everything in Options 1 & 2 + a 2-hour side-by-side VIRTUAL session with Kiala. This option is where I will sit with you (virtually) and help you layout your deck or book for printing, build a launch plan, or make decisions about what happens beyond the deck.
Affirmations for Everyday Magic (coming soon)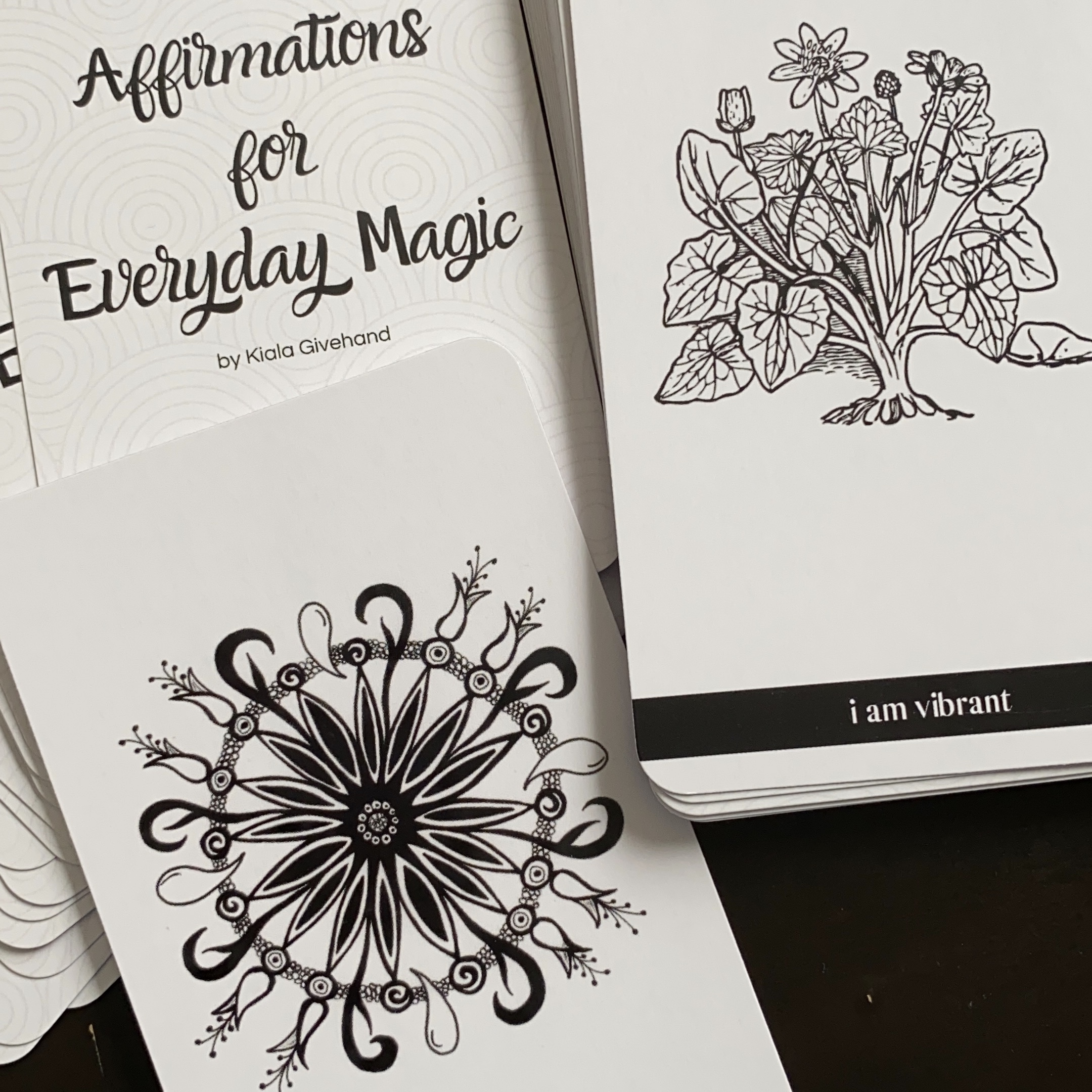 The Everyday Goddess (coming soon)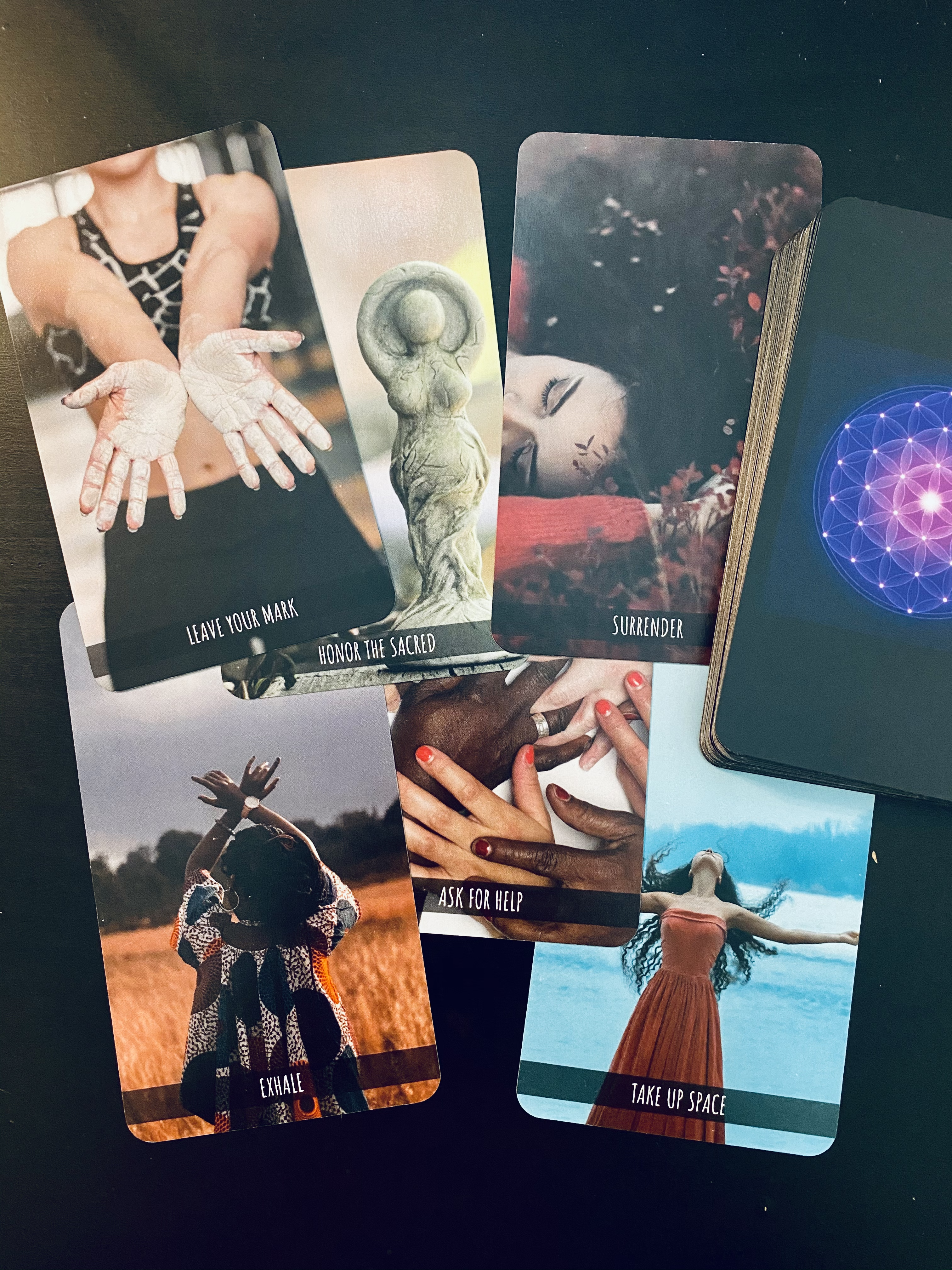 What You Get
Real-time virtual sessions

More than 25 hours of video replays and recorded content

PDFs for all stages of the deck creation process (from concept to creation to distribution)

Personalized Q&A

Laser coaching from Kiala

Guest teacher content from Kristen Radden, Chris-Anne Donnelly, Jamie Sawyer, and Rachel Torda

6 Month access to the content and replays

Direct access to Kiala in a private Mighty Network group

Options for private, one-on-one mentoring from Kiala



Decks from Previous Mastermind Members:
The Flow Tarot by Rachel Torda
The Color Feel Color Heal Deck by Consie Sindet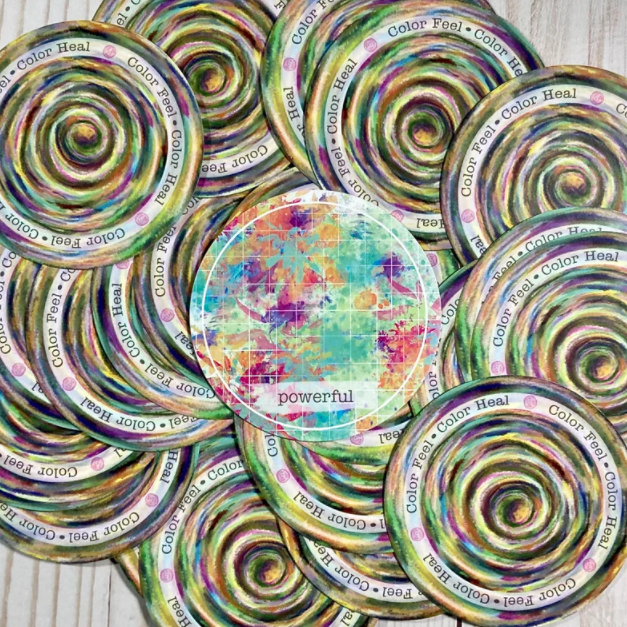 The Let Your Light Shine Inspiration Deck by Cindy Gilstrap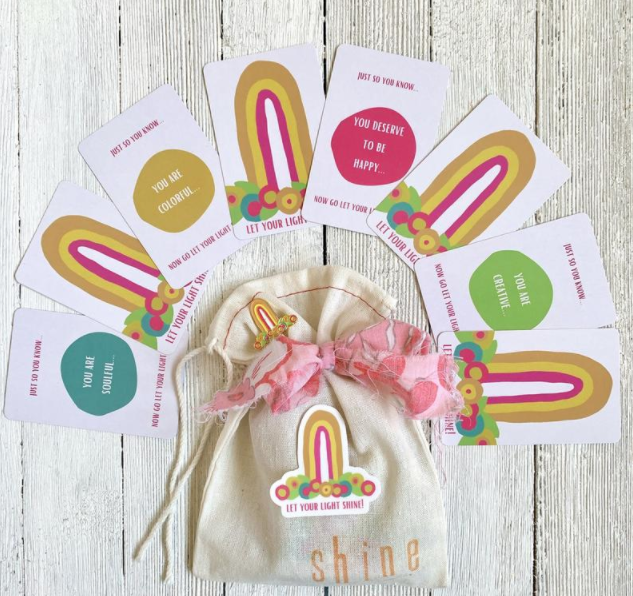 The Moonflower Oracle by Karen Faith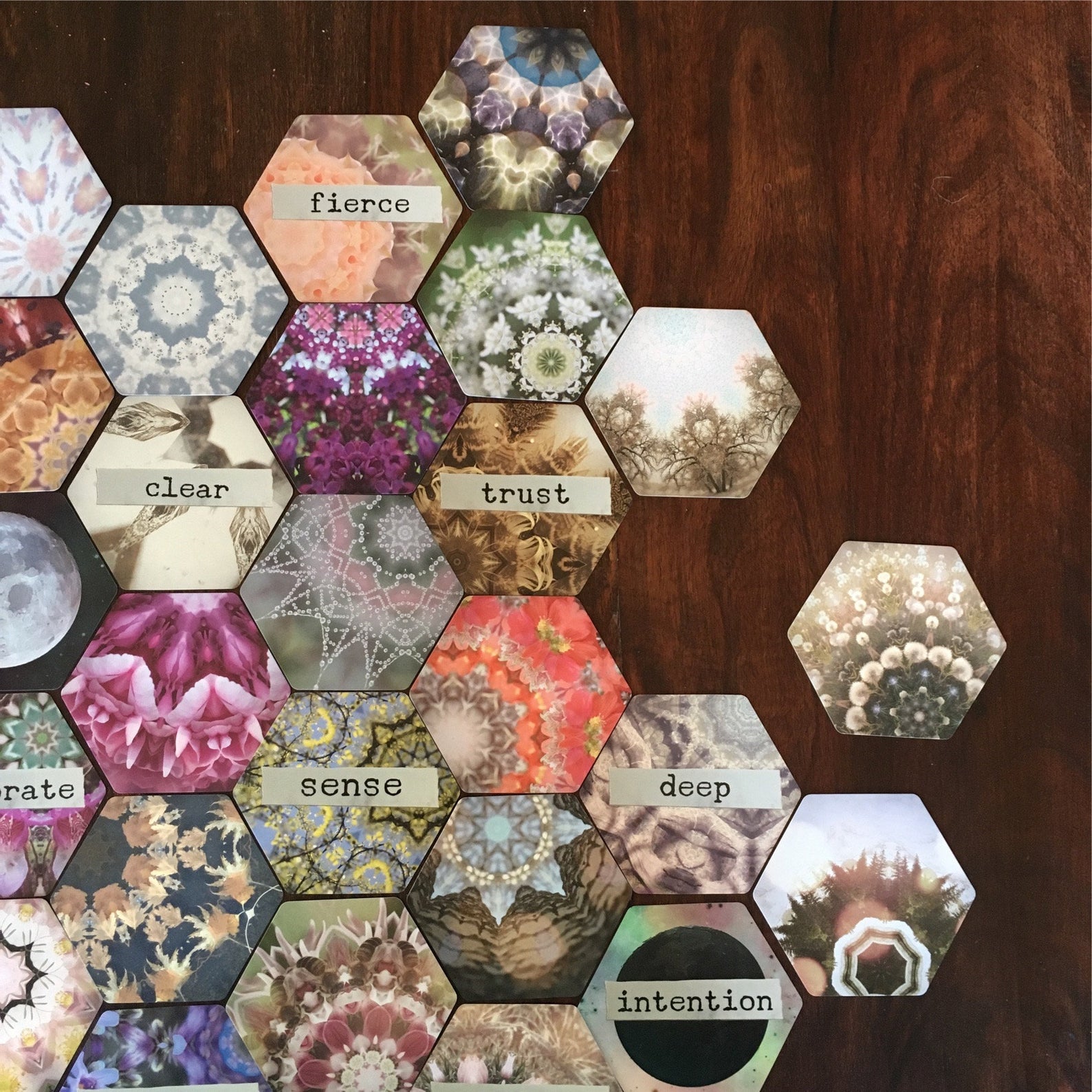 Your Instructor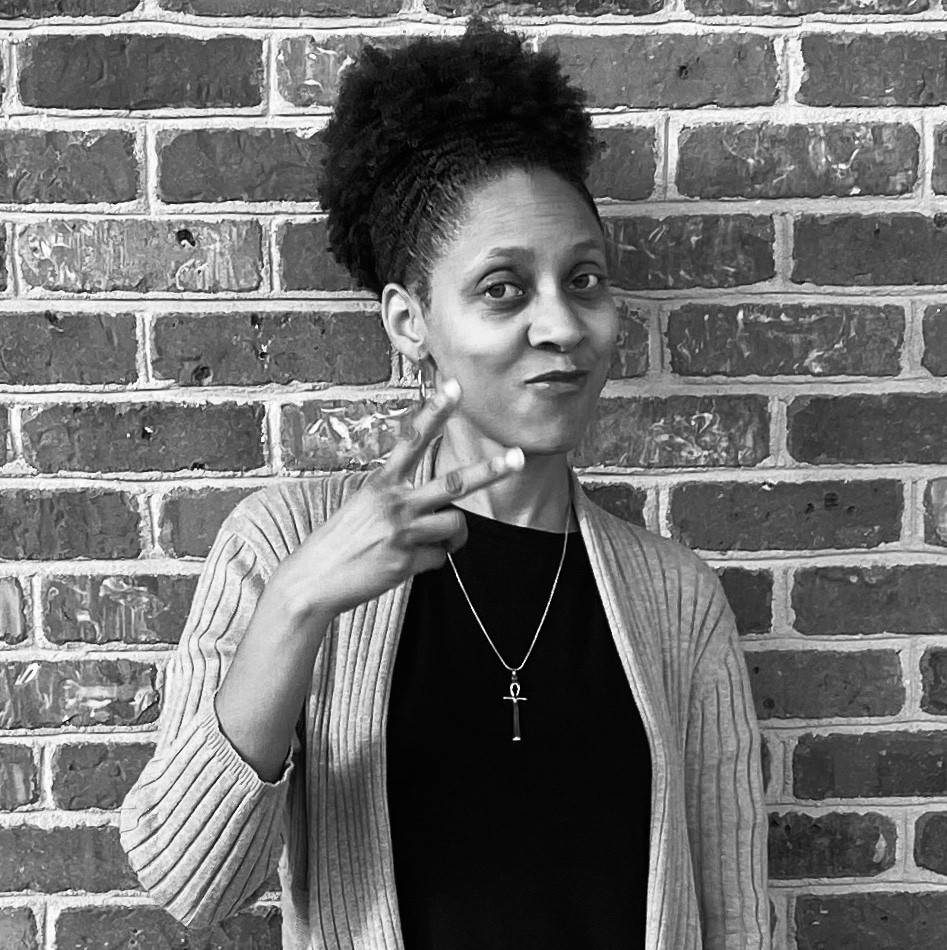 Hello Beautiful Creative You!
I'm happy you're here.
I'm Kiala Givehand, a multi-passionate intuitive & intentional creative. I walk through the world as a LifeAlchemist™ for creative, heart-centered, soul-filled women who want to change the world by shining their light more fully and more brightly. I call myself a LifeAlchemist™ because I help women bring together all the parts of themselves to create a life they love. As an Alchemist, I support women through creative and spiritual awakenings and guide them towards empowerment.
As an artist, I make (and sometimes sell) handmade journals using a mix of mediums. I host workshops, retreats and online classes where I get to teach the things that nourish my soul -- bookbinding, journaling, creative writing, and self-discovery though transformational tools and content.
For almost 20 years, I taught English, Language Arts, and Creative Writing at every educational level, while simultaneously traveling the U.S. delivering workshops and presentations to educators. While I no longer travel to work with teachers, I now enjoy working one-on-one and in small groups with students, teachers, artists, writers, and creative entrepreneurs. I do this work because I love helping women find the thing that fills them with joy and watching them pursue it without regrets or apologies.
I've done a lot of things in my short 45+ years on this planet, but I'm most proud of raising my nephew Treavor, and listening to my inner wisdom by doing the things that make me come alive. Constructing handmade books and art journals is one of those things that allows me to feel A L I V E!!! And I'd love to have you join me on this journey. Reading tarot & oracle cards, pulling astrological charts, and delving into the esoteric and ancient guidance systems is another way I help women have spiritual and creative awakenings. I'm eager to do the same for you.
I cherish every single day and treat life as one amazing adventure. I play with paint and watercolor, fold paper into books, write poetry, short fiction, & creative non-fiction, and guide women through sacred remembering of who they truly are. But always, every single day, I journal and do something that I feel is creative. Oh!! And did I mention that I'm the proud owner of a fabulous collection of fountain pens? (I know. Geek alert!)
Join me and let's create something beautiful, TODAY!!
Frequently Asked Questions
When does the course start and finish?
The course starts on October 21, 2022! We spend the weekend together and then you work on your own with support and access to me for one month. The content for the class will be available to you for 6 months.
How long do I have access to the course?
After enrolling, you have 6 months of access to this course - across any and all devices you own.
What if I am unhappy with the course?
Once you get access to the full content of the class, you will not be eligible for a refund. If you are unhappy after the course starts, email me and let's chat. Life getting in the way is NOT a refundable situation. Please purchase the course mindfully.
What if I don't have an idea for a deck?
If you think you want to make a deck to sell, but you don't have an idea in mind (or you have too many ideas), I encourage you to select the option that gives you a one-on-one call with me. That will allow us to chat and I can talk with you about your ideas and help you narrow in on something that resonates with you. There are also lessons in the class designed to help you make a decision about the deck to work on first.
What if I can't attend any of the live sessions?
Each session is recorded and made available shortly after it ends. You can rewatch as many times as you need to in the 6 months that you have access to the content.
I really just want to make a deck for my personal use. Do I need to take this class?
No. The better choice is the Artful Affirmations & Original Oracles course. Check that one out and see if it will fit your needs. To make one deck for yourself, you don't need the weekend mastermind. The AA&OO class opens two times a year for registration.
What supplies do I need?
For this class, the supplies can be as simple as having your computer or your journal and pen. If you are creating a deck from scratch using your artwork, you'll need your art scanned or photographed in order to work with it over the weekend. If you are going to be creating the art during the weekend (which is possible), you'll need to have your preferred art supplies on hand.
I'm working digitally. What do I need to know?
Great! We love our digital creators. There will be a few fun activities for you all to play with as you learn the various elements of deck creation.
Do you guarantee that the deck I make will sell?
No. I can't make that promise. No one can make you that kind of guarantee. What I can guarantee is that you will learn a repeatable process that will help you create decks that you love. The selling, launching, and marketing of your deck will have a lot to do with your willingness to spread the word about your deck.