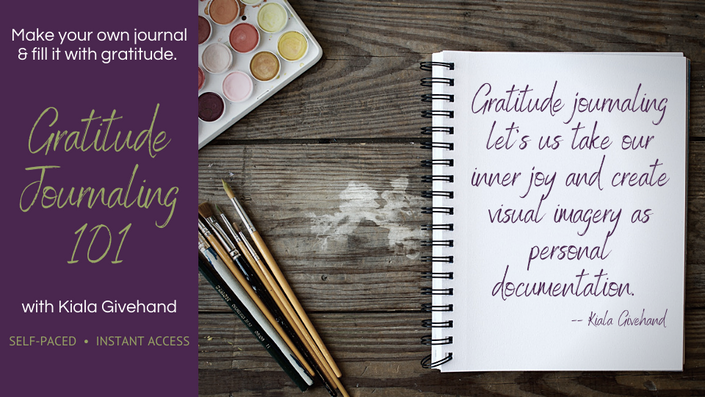 Gratitude Journaling 101
Make Your Own Journal and Fill it With Gratitude
Something magical happens to us when we begin (and sustain) a practice of gratitude. It doesn't need to be elaborate or complicated to be powerful and pleasurable. Gratitude can be beautiful whether done in private or shared publicly. It's an inward expression of an outward truth -- being grateful makes us more happy, more healthy, and, when needed, more humble. Being grateful has become a mainstreamed concept, but the truth is, it's an age old idea. One that can be seen throughout history, spanning across many religions, faiths, and spiritual practices. Gratitude is NOT a new concept.
This class is about many things, but the most important lesson I aim to get across is how simple it can be to create a beautiful, creative, and sustainable gratitude practice by applying new methods to an old idea (and brushing off some old methods and using them in modern times). It's about helping you develop a healthy habit of being grateful each day and making that habit a priority.
In this course you will:
Create your own handmade gratitude journal. (These ideas can also be done in a blank store bought journal)
Make a unique cover for your handmade gratitude journal.
Layout your pages for journaling ahead of time to keep things simple through your month.
Use prompts to help you develop a gratitude journaling habit.
Share how your gratitude practice is transforming your life with other like-minded gratitude practitioners in a private Facebook community.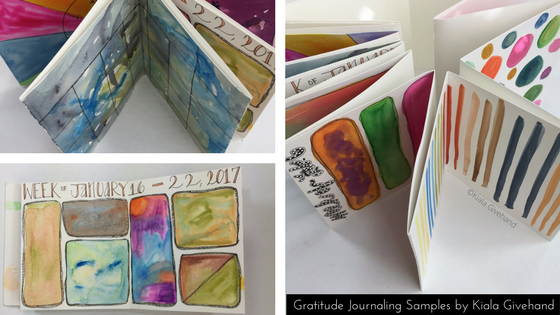 You'll get:
Step-by-step video tutorials for making a handmade journal.
A list of daily prompts to use as you journal.
Quotes on gratitude that you can use for journaling or lettering practice.
Suggestions for filling your journal habitually.
Ideas and suggestions for how to be more creative in your journal.
A downloadable PDF.
Access to a private Facebook Group.
Class Content
Getting Started with Gratitude Journaling
Available in days
days after you enroll
Making Your Gratitude Journal
Available in days
days after you enroll
Your Instructor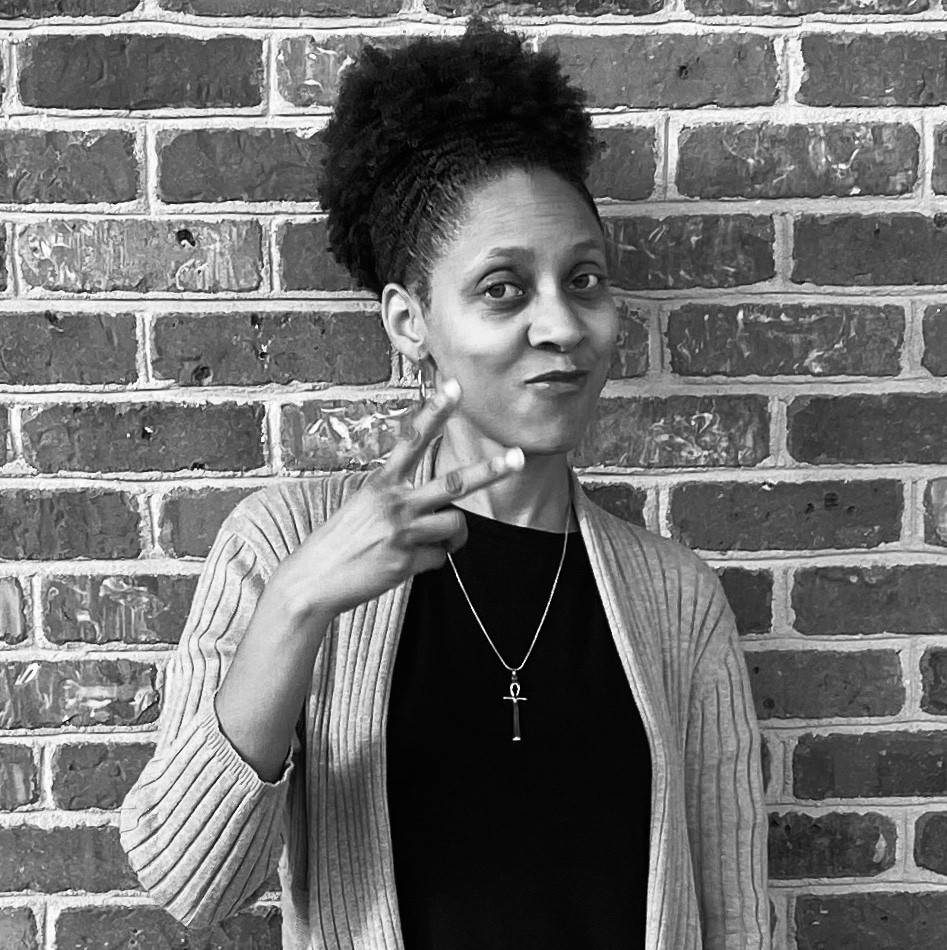 Hello Beautiful Creative You!
I'm happy you're here.
I'm Kiala Givehand, a multi-passionate intuitive & intentional creative. I walk through the world as a LifeAlchemist™ for creative, heart-centered, soul-filled women who want to change the world by shining their light more fully and more brightly. I call myself a LifeAlchemist™ because I help women bring together all the parts of themselves to create a life they love. As an Alchemist, I support women through creative and spiritual awakenings and guide them towards empowerment.
As an artist, I make (and sometimes sell) handmade journals using a mix of mediums. I host workshops, retreats and online classes where I get to teach the things that nourish my soul -- bookbinding, journaling, creative writing, and self-discovery though transformational tools and content.
For almost 20 years, I taught English, Language Arts, and Creative Writing at every educational level, while simultaneously traveling the U.S. delivering workshops and presentations to educators. While I no longer travel to work with teachers, I now enjoy working one-on-one and in small groups with students, teachers, artists, writers, and creative entrepreneurs. I do this work because I love helping women find the thing that fills them with joy and watching them pursue it without regrets or apologies.
I've done a lot of things in my short 45+ years on this planet, but I'm most proud of raising my nephew Treavor, and listening to my inner wisdom by doing the things that make me come alive. Constructing handmade books and art journals is one of those things that allows me to feel A L I V E!!! And I'd love to have you join me on this journey. Reading tarot & oracle cards, pulling astrological charts, and delving into the esoteric and ancient guidance systems is another way I help women have spiritual and creative awakenings. I'm eager to do the same for you.
I cherish every single day and treat life as one amazing adventure. I play with paint and watercolor, fold paper into books, write poetry, short fiction, & creative non-fiction, and guide women through sacred remembering of who they truly are. But always, every single day, I journal and do something that I feel is creative. Oh!! And did I mention that I'm the proud owner of a fabulous collection of fountain pens? (I know. Geek alert!)
Join me and let's create something beautiful, TODAY!!
Frequently Asked Questions
When does the course start and finish?
The course starts now and will stay available to you for the lifetime of the course. I typically retire my courses after 18 to 24 months! The class is a completely self-paced online course - you decide when you start and when you finish.
I've never made a handmade journal before. Is this the right class for me?
Yes!!!! This is a beginner course where I walk you through step-by-step how to make your journal from scratch. No prior experience required.
What supplies do I need for the class?
You will need some basic supplies: paper, pens, pencil, ruler, watercolors (if you want to use the final techniques I use).
What do I need to watch the video tutorials?
You need a high speed internet connection and a device that can process high definition videos. This platform is not device specific so you can watch the videos on most Internet ready, up-to-date devices. There's also an APP you can download for easy viewing of your courses: https://itunes.apple.com/us/app/teachable-online-courses/id1177062376?mt=8
How long do I have access to the course?
After enrolling, you have unlimited access to this course for as long as the course is in rotation on this site. You can access it across any and all devices you own.
What if I am unhappy with the course?
I appreciate you purchasing courses carefully. Make sure this is the class you want to take. Due to the nature of the course, you will have immediate access to the entire course and all of the content as soon as you purchase the class. Because of this, no refunds are honored once you have accessed the course. If you have questions, please ask me before you purchase to make sure this is the right class for you.