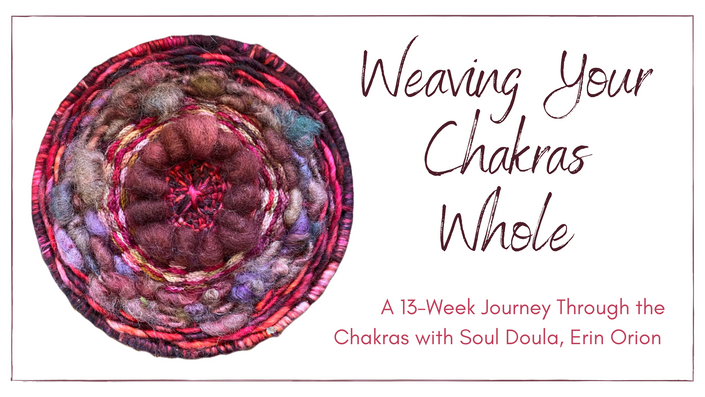 Weaving Your Chakras Whole
Change your energetic imprint through deep soul exploration.
Enroll in Course
Weaving Your Chakras Whole will offer you a chance to see yourself in the web of Sacred Weavers who have woven our lives and our world throughout time immemorial. It will offer you a chance to change your energetic imprint and heal yourself through deep soul exploration and by unleashing your inner Creatrix.
Together, we will learn how to weave on a circular loom, and will complete 7 weavings, one for each of our main physical body chakras. We will learn about each of the chakras, how to read our own chakras, and how to shift the energies within them. While you weave in a supportive, sacred container, you will learn myths and stories of the archetypes and guides who carry the magic of spinning and weaving the world.
This class will give you the opportunity to heal energetic imbalances, release blocks and allow your true potential to flourish. You will release old stories that are no longer serving you and reweave a new energetic reality that supports your highest good.
By tapping into your inner Creatrix, entering into this community with others doing this important transformational work, and journeying with the goddesses of the most ancient of magics - spinning and weaving - you will weave yourself whole in sacred community.
The weaving of the world is torn and unravelling. There has never been a better time to learn how to heal ourselves through weaving, energy healing and sacred community.
This class is for you if:
• you are interested in energy healing
• you are an experienced weaver, looking to incorporate a spiritual and magical intention into your art
• you have never woven anything before in your life but are excited to try
• you love myths, stories and archetypes
• you feel inextricably drawn to it
• you "feel" a yes in your soul
• something inside you gets excited about the combination of fibre art and inner transformation
• you are interested in fibre arts but don't know how to start
• interested in chakra healing, and want a practical way to work with them in your life
• want 7 new soul-led weavings to decorate your home or sacred space with
• want to learn more about (and practice) intentional, soul-led therapeutic art
Passionate about energetic healing and setting intentions in your life? Want to do it in a community of sacred makers?
You Have The Opportunity to Leave With:
• a firm understanding and knowledge of how to do circular weavings
• 7 circular weavings, based on your chakras
• 7 guided meditations for each chakra for future healing
• knowledge on the 7 main physical chakras, and the ability to "read" your own energy centers
• a unique understanding of the chakras that will support you in understanding them as a balanced system and empower you to live from a heart-centered place
• an opportunity to heal energetic imbalances, blocks and old stories that are limiting you
• a deeper connection to your self and knowledge of what is (has been) holding you back
• an opportunity to intentionally reset your energy by weaving yourself a new story
• embodied tools on shifting your energy
• a deeper knowledge of and connection to the deities and Guides associated with weaving and spinning
• a powerful connection to the magic of weaving and understanding of its place in the world and your life
Do you love myths and archetypes? Are you a weaver or interested in learning to weave?
How The Class Works:
We will meet over the course of 13 weeks, for a total of 9 sessions.
Each class is 2 hours long, and will consist of:
a chakra teaching
guided visualization
journey to each chakra
intention setting
time to weave around the sacred (virtual) fire as we listen to stories of Old and share about our own process.
There are "break weeks" intentionally woven into the class to give time for integration and completion of the current weavings.
All classes are recorded for accessibility. Classes are 2 hours long, and begin at 11 am CST.
The dates for this class are:
April 27
May 4
May 11 -- BREAK/Integration Week
May 18
May 25
June 1 -- BREAK/Integration Week
June 8
June 15
June 22 -- BREAK/Integration Week
June 29
July 6
July 13 -- BREAK/Integration Week
July 20
Your Instructor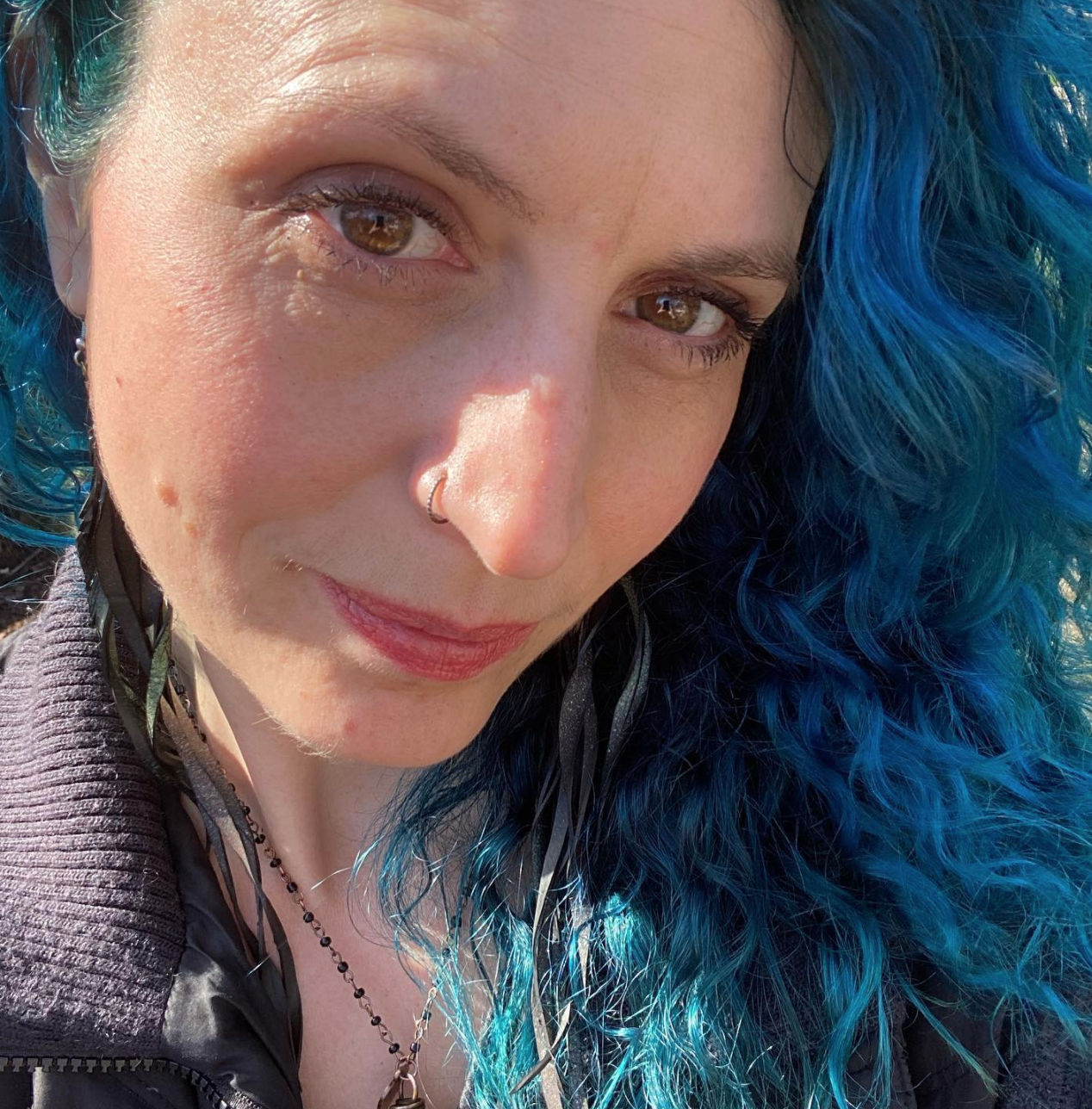 Erin Orion, M.Div, is a Soul Doula. She is an ordained priestess of the Sisterhood of the Rose, energy healer and teacher, Quaker minister and elder, divine channel, intuitive psychic and witch She is also a writer, digital artist and Quantum Human Design Specialist. As a fibre artist, Erin spins, knits, crochets, weaves, wet and needle felts and dyes fibre. She is also the proud owner of 6 spinning wheels, 3 of which are over 200 years old. She works as a guide and coach for people looking to create alignment and build resiliency through the exploration and healing of self and soul. She teaches energy hygiene and healing, through a variety of practices that support sustainable thriving in a world in crisis. 
Called to advocacy, activism, and healing, she has incarnated at this time to be a part of the global transformation into a world based in equity, balance, sustainability and peace.
Frequently Asked Questions
When does the course start and finish?
The course starts April 27, 2022 and ends on July 20, 2022! You will have access to the content for one year -- July 20, 2023.
What kind of supplies will I need? Do I need to buy special things?
The supplies list isn't extensive. You will need embroidery hoops (one for each weaving), a tapestry needle, a pair of scissors and yarns/fibres of various sizes and colours. (You may also choose to incorporate other elements into your weaving as we go along like beads or stones, but that is all optional and intuition-led.) There is a more detailed list in the class itself, but we have purposely kept the requirements for this class minimal and encourage you to "shop your stash."
Will I need a special kind of circular loom?
No. We have purposely designed this class to utilize easy-to-find embroidery hoops.
I've seen circular weaving done on homemade cardboard looms. Can I use one of them for my weaving instead?
We don't recommend this. They can be difficult to use, as tension changes the weaving process and sometimes you can end up with a bowl shape instead of a flat weaving, if you are not an experienced weaver. Also, the instruction on how to warp a loom in this series is based on an embroidery hoop and is not applicable to a cardboard (or specially crafted wooden) circular loom. If you choose to use this method, please be aware that you will have to teach yourself how to create one of these looms and how to warp it outside of our class time.
What if I have never woven anything before?
Don't worry! You're totally welcome here and we will walk you through every step of the way. Erin has taught this kind of weaving to complete beginners, including her (not-very-crafty) husband and two kids under 10 years old. No prior weaving experience required to create a beautiful masterpiece!
What if I am an experienced weaver? Is this class too beginner for me?
No, absolutely not! If you are interested in learning how to weave on a circular loom, then this is the right place for you. Remember, this class is not *just* about weaving - it's about using the craft to support healing of your energy body and spirit, while also stepping into deeper, magickal relationships with goddesses and deities of spinning and weaving from around the world. So, if you are interested in the intersectionality of weaving, healing and magic, then this is the right place for you.
What if I don't know anything about energy healing or the chakras?
That's totally fine. You don't need to know anything about energy healing or the chakras before starting this class. Erin will be offering information on each of the chakras as we move through them, and information on how to use weaving to help heal them is interspersed throughout the course.
What if I already know about the chakras and energy healing?
Great! Bring that knowledge with you, to help you create transformative and powerful weavings of each of these energy centres. All levels of knowledge are welcome. We simply ask that you come with an open mind, as Erin may offer a different perspective on how to think about and work with the chakras than what you are used to.
Are these going to be wall hangings or can I take them off the hoop when they are done?
Obviously, you are welcome to use or display the weavings however you wish. Many people will choose to keep them on their embroidery hoops to maintain the size and shape, but if you wish to remove them from the hoop, that is your decision. Having done both, we would recommend keeping them on the hoop (especially if you plan to hang them), but are happy to walk you through the process of how to remove them from the hoop if you would like to use them as an altar cloth, as a part of mixed media journalling, or in another creative endeavour that requires them to be hoop-free.